Ludi Neethling wrote:
Since the dealer replaced the rear lower control arms due to a recall (after all these years), there was a clunking noise at the back. Due to the design of the new arms the stabilizer bar touches the control arm behind the rear stabilizer bolt. If you hit the bar it vibrates against the control arm. I used a 2.5 mm washer as a spacer on both sides at the rear bolt between the bar and the control arm. Problem sorted.
A few weeks ago, after picking up the new arms for the recall from the local FCA dealer, I was not at all impressed with the "new & improved" version of the rear lower control arms provided with the recall!
I had all intentions of bringing them home and installing them myself.
I had worked this out with a mechanic friend of mine who works there.
I actually had removed one of the OEM arms and then opened the Mopar box and laid one of the so called "new & improved" arms beside it, see picture below.
I quickly realised the OEM arms are constructed of a much heavier metal and a more robust design and they actually weigh more and appear to be overall better made arms.
Needless to say, I put the OEM arm back on my Jeep and declined to use the recall parts.
I plan to hold on to the new arms just in case I ever need them.
Now the caveat: I don't live in a rust belt state where many of the suspension parts on vehicles can be exposed to the highly detrimental effects of road salt.
So if you live where salt and / or rust may be a real problem you may want to consider the recall performed???
I just was not impressed with the design or the quality of the replacement parts....
The new ones are made out of a thinner metal, kinda remind me of the POS stamped boomerang!
picture of them side by side: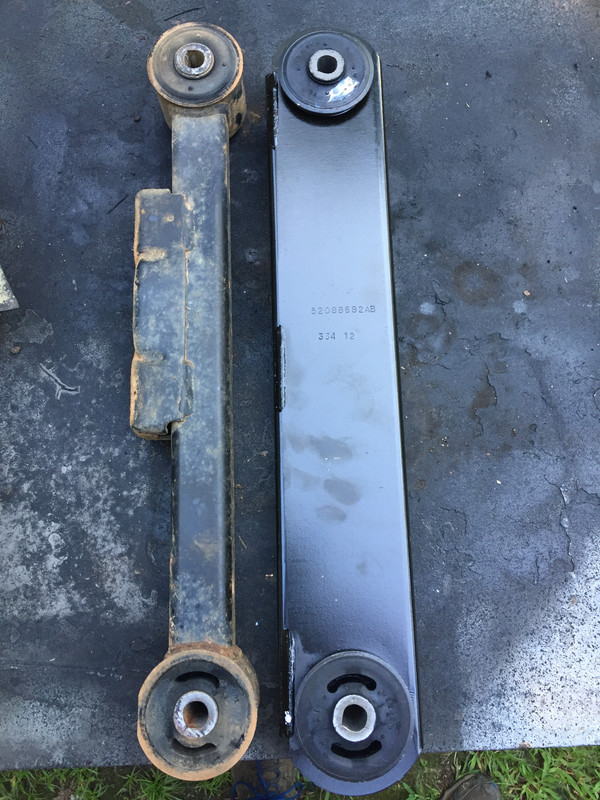 _________________
Proud Supporting Vendor of LOST
05 Jeep Liberty CRD Limited

Ironman Springs/Bilstein's
Yeti Stg4 MaxTune
Weeks ElbowKit/BatteryTray
NO FCV/EGR
Samcos/ProVent
SunCoast/Transgo
Carter Intank-pump
2mic.Sec.Fuel Filter
Flowmaster/NOcat
V6 Airbox
GM11 blade fan/NAPA HDclutch
Ironrock Trilink
Dodge Cummins, 5"exh. Viair, Huge K&N