We are now ready to start. The design will be like shown below EXCEPT without the holes across the face. There will still be holes on the lower section. There is one design only, no custom one offs.
I had to order 10 to start. 2 are spoken for already, so I have 8 that will be for sale. These are all laser cut and are looking great.
Any orders paid in full by the 15th will also get a free set of recovery shackles on the house. Price for the bumper is $695.00, with LED lights $775.00 OK, ALL PRICES PLUS SHIPPING
Retail is going to be 960.00
Shipping will be approximately 3 weeks from the date you order.
IF INTERESTED PM ME AND I WILL SEND YOU MY PAYPAL ACCOUNT INFORMATION.
THESE ARE BEING SOLD ONLY THROUGH MUDDS GARAGE
The bumper will weigh 70lbs with hardware, and will come with LED cube lights included ( you can see where they will mount on either side )
The tire carrier will come soon. The carrier will be
adjustable in height and angle and allow mounting of Rotopax gas can
setup. It will not come with a hitch, but the
factory hitch bolts right up under it if needed. The bumper is 1/8", and
the mounts are 1/4" with 3/4" shackle tabs. Pricing is yet to be determined.
I cannot give out any other information right now but this is the same place that is working on the front conversion bracket for KJ/KK to mount TJ/JK wrangler front bumpers, as well as new designed roof racks and sliders and front bumper that will have the same
theme as the rear bumper shown here.
So thoughts/comments ...............................I know you have them
Broke down for easier shipping than most other bumpers out there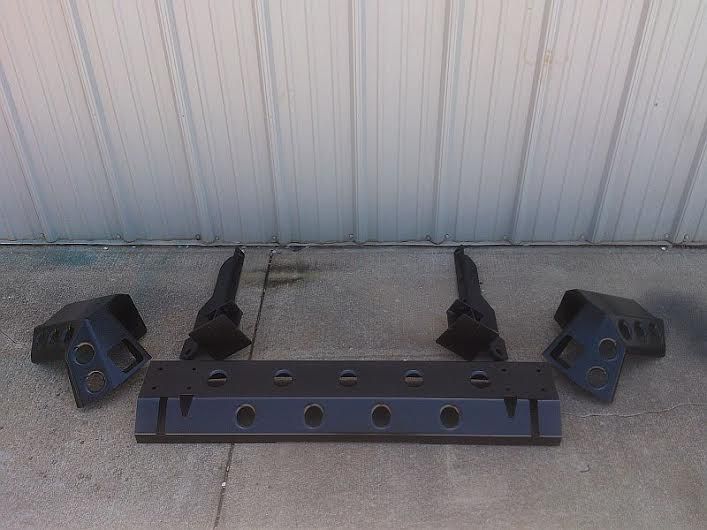 Stock spare tire carrier can still be used if you want
_________________
MUDD'S MOTORSPORT'S We do IFS lift installs
,
03 OVERLAND EDITION
/Kilby-Skidrow-Mopar-4XGuard skids/
2.5 inch TOTAL CONTROL JBA coilovers
-JBA Arms/MOABS-31
FALKEN WILDPEAK AT3W
/ 4.10's etc, 04 Kilimanjaro Edition loaded