Full custom buildup.
Built Vortec 454 (est. of around 450 to 500 hp, 500+ torque)
TH 400
Dana 300
Front Dana 60
Rear 14 bolt 4.56 gears
Detroit lockers
Front hydro assist steering
12K Warn winch
Custom bumpers/roll bars/roll cage/sliders
Planning 39.5/13.50/16.5 IROKs for wheeling on custom designed and built beadlocks. Please inquire if you would like some made to any bolt pattern and size! (I can even make them spinners
)
Prob 37/12.50/17 BFGs for street
Has rear F350 Superduty springs, front 3/4 ton 6" Superlift springs. (and yes it will FLEX! Will be around 12-14" of lift from the stock state.)
Air bag assist.
Going to paint it dark green with a silver accent.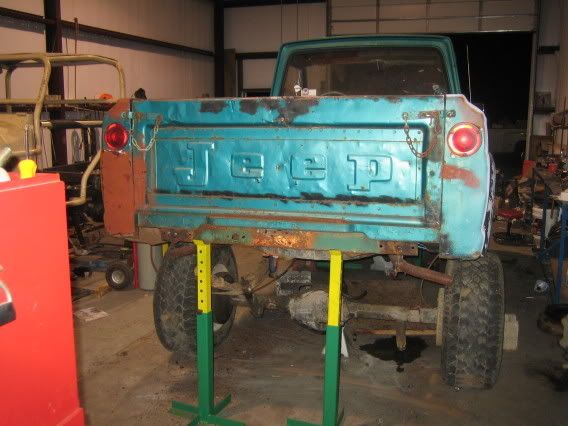 (Those are just some old 33s bolted to the axles and they look SMALL in person. The ride height is actually a little higher than in these pics.)
_________________
2003 KJ Limited
RRO combo, Ranchos all around
BFG KOs
Boulder Bars, electronic stuff
1963 J200 in the works...
1984 CJ7 with a TJ body: D60 front, 14 bolt rear
350/Th400/Dana 300; 18/39.5/16.5 TSL Boggers