The muffler I put in is a Thrush Welded, 2.5" center inlet, 2.5" offset outlet. That is the spec on the KK, so if you are using any other brand, you need the same: 2.5" center inlet, 2.5" offset outlet.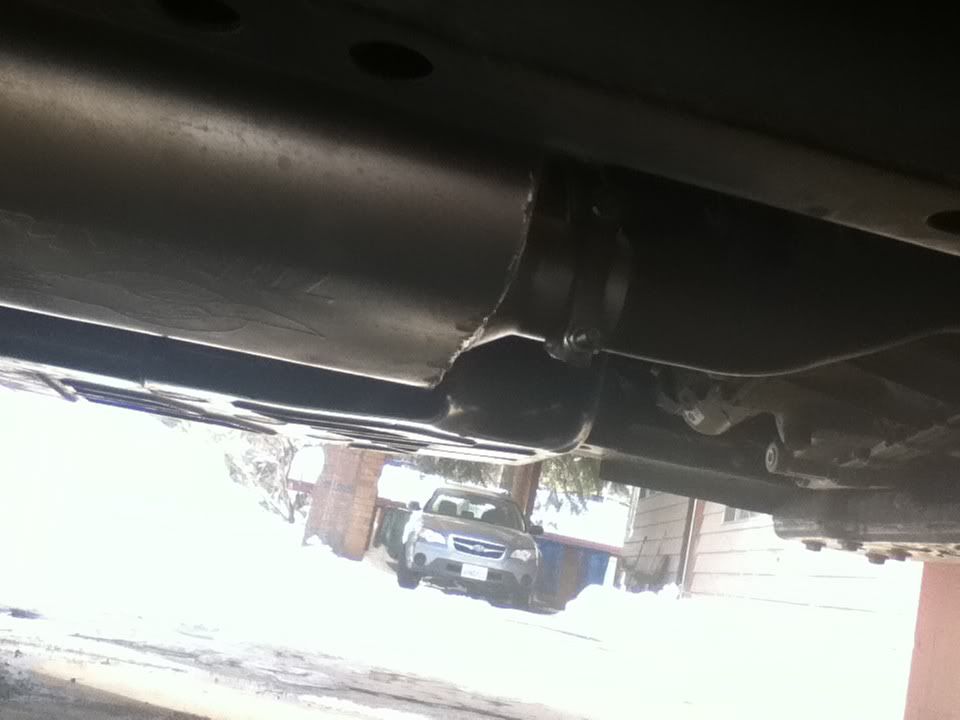 Tools: reciprocating saw w metal blade or hacksaw (I used a hacksaw, it wasn't that bad)
Socket/ratchet, 5/8 iirc
Heavy dead blow hammer
3pcs 2.5" u bolt style muffler clamps
2.5" i.d. extension tube, flared at one end. The size you need will depend on the length of your new muffler.
Ok, first measure the length of your new muffler and write that down. After your old muffler is cut out, you are left with a 32" gap between the two stock pipes. I overlapped my 3 joints 2", which means you need 38" of new muffler and extension. So the formula is:
38 minus length of new muffler= length of extension you need. The thrush muffler is 19", so I needed a 19" extension piece to make 38". I bought a 24" extension, so obviously i had to cut it to 19".
Step 1: set parking brake and jack up rear of vehicle and put on jackstands. Block the front wheels. Put on safety glasses or goggles.
2: cut the pipe behind you old muffler, if you have enough space, it may be helpful to place a jackstand or block of wood under the muffler, its heavier than it looks.
3: once you cut the pipe, loosen the nut on the factory clamp in front of the muffler. Try twisting that muffler off. If you cant twist/pull it off, use your dead blow and hammer it off.
4: it may be helpful to smear some motor oil on the stock pipes to make installation easier.
Now slide your new muffler on either of the two stock pipes. I put mine on the foreward pipe. Now slide the non flared part of the extension in to the muffler, and the flared part over the stock pipe. Remember, 2" overlaps at all three seams.
5: clamp it all down tight until you see pipes crimp a little bit.
6: now piss off your neighbors with your mean sounding jeep