Eddo, Moose and I installed a Rusty's coil lift, clevis lift (front) and a rear isolator lift back in October. This is really three different lifts resulting in a total of 3 3/8 inch lift in the front and 3 inch in the back. Since then, I have driven several thousand miles on roads and taken several offroad trips. I would say that the ride is better then stock and I would recommend this setup to anyone who is looking for a great, moderate priced, coil lift. Spacers are cheaper and a Frankenlift is more expensive. The Rusty's was right were I was looking to be. This is not intended to be a how to install a lift as I know I would leave out parts. I would just like to share with others my experiences:
I have a 2004 KJ so it was with the lowered springs. This was another reason I wanted to get new springs and not just spacers. I called and talked to a tech at Rusty's. I ordered a
2.5 Rustys Coil Lift $456+shipping.
The kit comes with everything I needed including rear shocks. I asked the tech about the rear shocks as there are several posts here from multiple people about the quality of the rear shocks. The tech at Rusty's had his own ideas but was willing to sell me whatever I wanted. We talked about adding Rancho RSX Rear Shocks (17004). His comments were that these are shocks for a Dodge Durango (which they are but work fine on a KJ). He went on the tell me more then I wanted to know about how shocks are valved and how a shock for a Durango would cause damage to my KJ. My cheap self took over and I did not upgrade to the Rancho rear shock but this is still haunting me as something I should have done. I have NOT had any trouble with the Rusty's rear shocks but I almost have only had them on for 2 months. I will add to this post in the event I have any trouble but as of today, they are doing great.
I also picked up:
6 2" conduit lock nuts from the hardware store $0.99x3 for the clevis lift (nuts are optional)
and 4 upper rear spring isolators from the Jeep dealership $12x4 for the rear isolator lift
Front
The
Rusty's Coil kit
somes with new front springs and new front shock. The stock strut must be removed and unassembled to insert the new spring and shock. We used a spring compressor with an air wrench to install the new springs and shock. I left the dust cover off.
Preinstall Front
Rustys Springs next to Stock Springs
Rusty Assembled next to Stock Assembled
The new strut is now ready to go in. After we installed the new strut, we were ready to do the
clevis lift
. We placed three 2" conduit lock nuts on the bottom of the strut before attaching the clevis. Leaving a gap on the clevis gives an extra 0.5". The nuts are optional as many just measure the desired gap without using nuts. I figured for $1.50, why not just add them.
Rusty strut with clevis lift added
After Install Front
We test the upper ball joints at 100% droop and there was still about 1/8 inch clearance between the UBJ and the spring. This was exactly what I wanted as I did not want to add a bumpstop if I could avoid it.
Rear
The
Rusty coil kit
comes with rear shocks and rear springs. Again, several people have had problems with the rear shocks which I have not. The rear installation was much easier then the front as one would expect.
Stock Rear
Rustys Springs next to Stock Springs
Rear Springs Installed and 2 Upper Rear Spring Isolators
You can see the two additional upper rear spring isolators above the new Rusty's spring. This gives an extra 0.5" lift and is the
rear isolator lift
. It is important to use some silicon spray between the isolators to prevent squeaking.
After about a week, I took it in for an alignment. I did not know of new specs for my jeep after the alignment so I just told them to get as close to stock as possible. I dont have any idea if this is good or bad, but here are the results the tech gave me...
Left Front
Camber Actual -0.6 Before -0.2 Range -0.8 0.0
Caster Actual 1.9 Before 1.9 Range 3.4 4.4
Toe Actual 0.09 Before 0.12 Range 0.04 0.16
Right Front
Camber Actual -0.4 Before -0.8 Range -0.8 0.0
Caster Actual 1.5 Before 1.5 Range 3.4 4.4
Toe Actual 0.04 Before 0.06 Range 0.04 0.16
Front
Cross Camber Actual -0.1 Before 0.5 Range -0.7 0.7
Cross Caster Actual 0.3 Before 0.3 Range -0.5 0.5
Total Toe Actual 0.13 Before 0.18 Range 0.08 0.33
Set Back Actual 0.64 Before 0.58
As I said, the on road performance has been great. I have NOT had any of the problems others have shared with the Rusty's rear shocks. I drive mostly highway to work and have driven on several long trips. I have enjoyed the ride and handling with the lift.
Traditional After Shot
Off road I am also VERY pleased with the extra clearance and performance of this combination. I do not hear rocks hitting my armor anymore and I simply enjoy the how much more I can do with my jeep.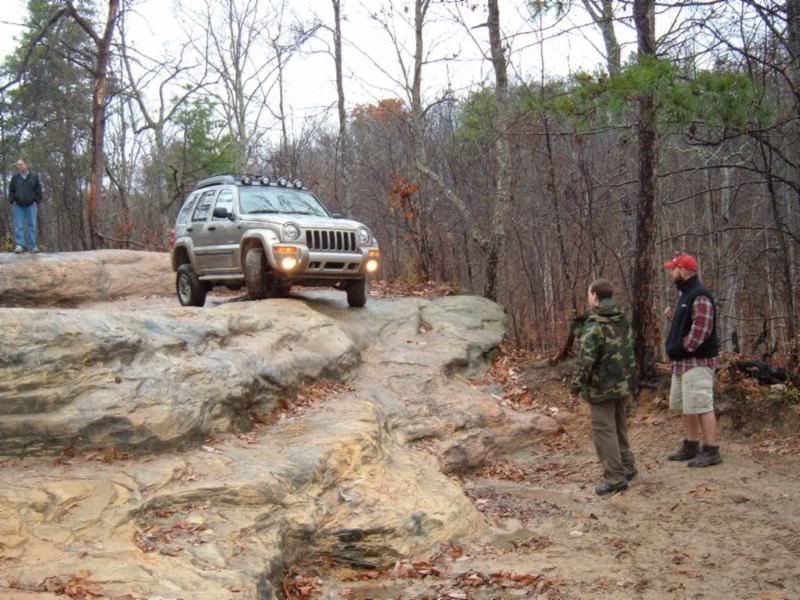 Again, I would 100% recommend this combination of lifts to others. I wanted the most lift I could get for under $500. I am very happy with the 3 3/8" lift in the front and 3" lift in the back. I know I could have just gotten spacers for cheaper but I dont think I would have been as happy in the end since I have lowered stock springs. I also plan on adding the
Rusty's strut plate
if I see too much settling up front. This will give me just under 0.5" of additional lift. I really don't need it right now but something to keep in mind for later.
Rusty's strut plate
Do not hesitate if there are any points you would like me to clear up or expand upon. I know I left out part about the actual installation but I hope this post helps others who are considering lifting their kjs.
_________________
Rusty's 2.5 Coil Lift
245/75/16 Goodyear DuraTrac
L.O.S.T Midwest #058429