Instructions for removing the knuckle is probably deserving of a separate article - this instructable is only focused on the removal and replacement of the front lower ball-joints. Very brief instruction of knuckle removal is (Section A) - go to (Section B) for lower ball-joint specifics and photos.
(Section A)
Brief instruction on knuckle removal
1. remove lower sway bar bolts that attach to knuckle
2. raise and support vehicle
3. remove tires
4. remove battery, battery tray, airfilter box lid / hose, and airfilter box lower shell
5. remove cv nuts, if they try to turn put a 4' square tube of steel or pry bar through the wheel studs with a rag wrapped around it so that its under, and over two different studs and braced against the floor
6. remove caliper and bungi them to hood lift struts
7. remove brake pads, and caliper bracket
8. loosen upper ball-joint nut until its close to end of stud but still on
9. remove lower ball-joint nut
10. remove tie rod
11. center jack cup under lbj stud and raise assembly about 3" and tap lca with hammer or use pickle fork since youre replacing the joint, then leverage on the uca and tap the side of the knuckle to free uca
12. remove uca nut
13. remove knuckle and support end of cv
*** if also removing cv's for cv servicing
***14. remove bolts from clevis
***15. remove clevis, remove 3 of the coil top plate bolts and all but remove the forth, grab coil assembly with one hand and reach in and remove 4th nut and catch coil assembly and remove
***16. remove cv
continue with section B for LBJ removal and replacement
(Section B)
Using the Autozone / ETC - OEM brand Master ball joint installer/remover adapter set #27310 and ball-joint/u-joint press kit #27023 you can use the part numbers and assembly orientation shown - air or electric impact is usually necessary for removal, you can use a hammer and the receiving cup, or appropriate sized socket to install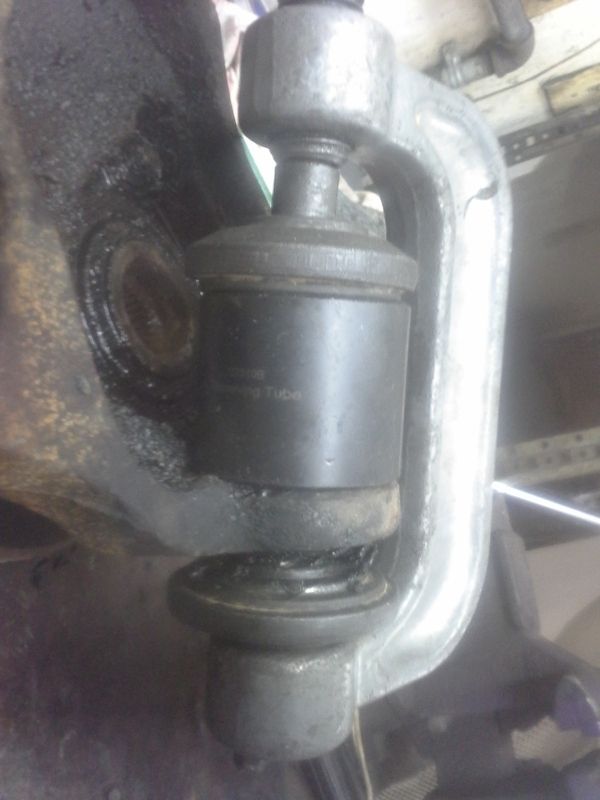 -photo is oriented similar to how the knuckle is oriented while attached to vehicle
-top of c-clamp threaded rod is positioned next to upper ball-joint hole in knuckle
*steel adapter on bottom of assembly is the only one out of the two supplied in the c-clamp kit that has a cone that fits into hole in c-clamp
*receiving cup is #27310B - Receiving Tube
*oriented on top of that is the other steel disc supplied with the c-clamp kit - it has a hole that fits the pivot of the threaded press rod
A. Lay c-clamp across knuckle with the knuckle resting on the wheel lugs oriented as shown
B. Slide lower press plate over ball-joint stud oriented so that it correctly meshes with the c-clamp hole
C. loosely place receiving tube #27310B around top of ball-joint and position press plate above it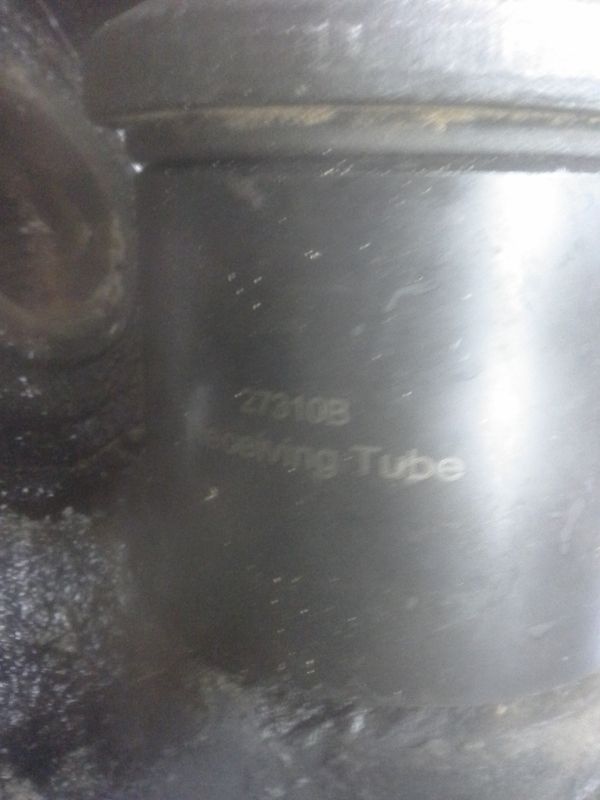 D. thread press rod through c-clamp until it aligns with press plate - realign assembly as necessary as you hand tighten threaded rod until it is no longer possible to hand tighten assembly
E. using appropriate impact socket tighten assembly - making sure to check frequently that assembly is maintaining alignment - if necessary loosen and realign assembly until it properly seats
F. once ball-joint releases from knuckle, remove c-clamp assembly, and remove ball-joint - tap stud with hammer to finish removing it if necessary
G. inspect new ball-joint for proper manufacturing, remove the NEW lock nut and retain for knuckle reinstall (throw the old one in the garbage or up into your gutters)
H. clean all surfaces around top , side and bottom of ball-joint mating area of knuckle until its entirely free of grease, grit and dirt - use a wire brush and brake cleaner as necessary. do not scar the machined surface of ball-joint hole with screw drivers and such, just use cleaner and wipe it clean with a rag until free of debris
I. Using Receiving Tube #27310H - Carefully tap new ball-joint into knuckle with a hammer - using light taps to maintain proper alignment it will easily seat almost to full flush, a good solid moderate rap should seat it home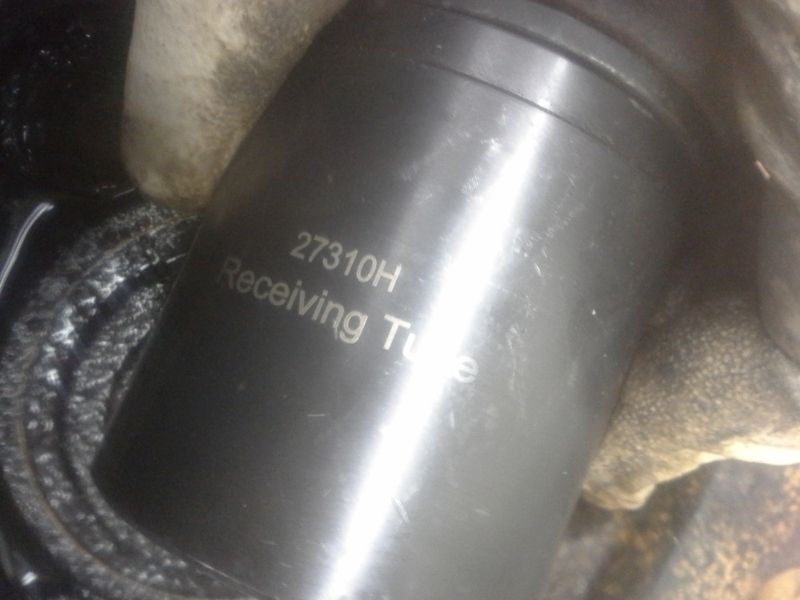 J. clean knuckle, back of hub, control arms, etc and reinstall basically reversing (Section A)
Let me know if i omitted anything important or if anything wasn't clear enough. I probably won't do a full photo workup of Section A. but I've been asked, and mentioned to several times recently of how much confusion and such some folk have had using the autozone OEM ball-joint kits and since I needed to do mine this week I figured it wouldn't hurt to take some notes. Maybe someone will find it helpful.
Mike