ken wrote:
Dang it I missed it.
Oh well, I was putting a stereo in my boat for tomarrow in the Delta. What'd ya think of the rock garden,with the uphill climb mixed in, Nice huh?
I havent looked at your pics yet. I really enjoyed Deer valley, myself. And the water crossing was up to here on my Rubi last year in July. I can't wait to run the Kj thru there. Gotta go check out your pic's, next time call me. (916) 825-2130 I definitley would've went. It figures the one day I did'nt check the forum too.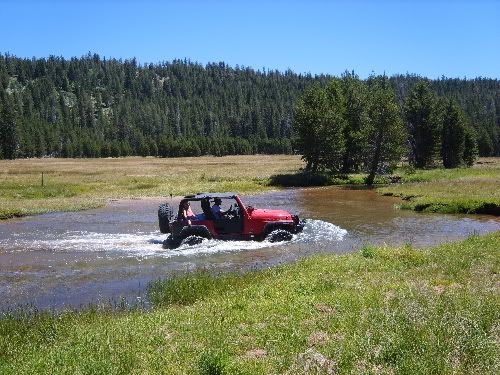 Sorry you missed it. I'll call for sure next time. The trail was awesome. We entered from Highway 4 and the very first obstacle gave me to most trouble. With no front flex I couldn't get a grip in the wet rocks going over that big granite slab that dipped down at the top. Plus there was a rock on the right that wanted to kiss my door. I ended up going to the high line on it and went right over. Then there as a long rock garden with a huge boulder that got my rear driveline pretty good. The sound of the rear u-joints grinding and scraping against it was awful and I thought I was going to snap it. I backed up a hair and put one rock in front of the rear passenger tire and over I went. Those spots were the only real issues I came across. It was a nice challenge for sure and Since the other 2 rigs were running 35s, they pretty much cruised through everything and I had to do my best to keep up without sotting, but I surprisingly enough did fine. I can't wait for my SFA to be done and then I can take all the harder lines on it. The water crossings were great too. There was tons of water up there. We crossed the 2 big streams and then like 10 little ones and 5 mud holes and passed by a ton of marshes.