So, I thought it would be funny to tell you that I still have not fixed the driveshaft. I took it into the shop on Tuesday and I got a call around 9a saying it was going to cost 6 hours of labor, so I refused service. I even told the lady that called that she could have a technician take a look since I was positive we weren't talking about the same part. She said it would be ready to pick up anytime.
I got to the shop about 3p and the KJ hadn't been moved from where I parked it early in the day. I asked the man that was working if it had been checked out and he looked at the paperwork and said yes and it was the rack and pinon that need to be replaced. I didn't check the paperwork until I got home, but once I did I saw the work order said customer requested rack and pinon replacement......
I don't know. Maybe I'm not being specific enough with my language. Maybe there is a secret autoshop word for driveshaft. So today I took pictures.
On the upside, a buddy I work with knows a guy who will replace the part.
Hey look, that seal is broken. Check out all the debris stuck to it.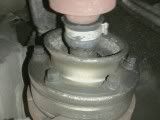 Hey look a part #, wow.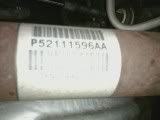 Anyways, thanks for letting me vent. This has been frustrating. People really do treat women like they know nothing about cars.