jbkuppe wrote:
Ok, so I switched out the 2 relays today after driving last night and - again - running along the road and suddenly the headlights go off. I don't remember if they were still not working when I got home and if I just kept on the fog lights/high-beam, but changing the relays now did not fix it. in fact, right now, the headlamps are not on when I turn the headlights on at the steering wheel switch (regardless of the relay swap/with the swap), which, presumably, means the multi-function switch is the problem (as the high beams work fine)? addtl thoughts appreciated. thanks
If you look at the FSM (factory service manual), you will see that most of the major lights on the Jeep CRD are controlled through the Body Control Module.
Index of /manuals/Jeep/KJ
2005JeepKJServiceManual.pdf
The multi-function switch simply tells the body control module what light to activate.
You can test the low beam headlight circuit by simply removing the low beam relay from the fuse panel and jumper pins 87 to 30, doing this should make the low beam headlights come on regardless of what position you have the stalk switch in. (See relay drawing below)
If they do not come on when doing this test, then the problem is in the wiring between the relay and the headlamps.
If they come on OK, then your problem is in the multi-function stalk switch or the wiring to / from the multi-function switch or worse yet, the Body Control Module.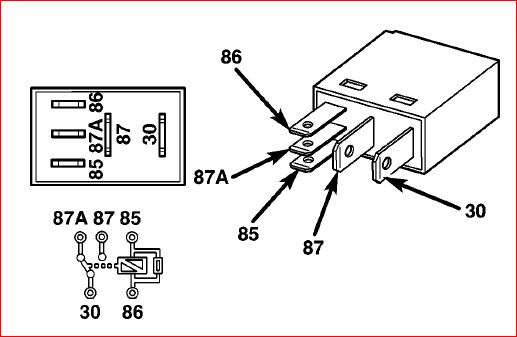 _________________
Supporting Vendor and Moderator of LOST
05 Jeep Liberty CRD Limited

Ironman Springs/Bilstein/Shocks
Yeti StgIV Hot Tune
Sasquatch BatteryTray
No FCV/EGR
Samcos/ProVent
SunCoast/Transgo
Carter Intank-pmp
2mic.Sec.Fuel Filter
Flowmaster/NO CAT
V6Airbox/noVH
GM11 bld.fan/NAPAHDClutch
IronrockArms/wwdieselMount