Unfortunately like many Jeep CRD parts the replacement Fan Brackets/Hubs are no longer available on any of the Mopar web sites or through dealers; all say "Discontinued" or "No Longer Available". So replacing your fan bracket means scouring the internet or boneyards for a used fan bracket which may or may not be in worse shape than your own.
Or trying to fit an electric fan and do away with the fan bracket totally which involves different drive belt, pulleys, etc... It gets complicated!
There is a much better alternative, replace it with a completely REBUILT Fan Bracket/Hub.
Jeep Liberty CRD Mechanical Fan Hub rebuilt with new slightly larger top quality *Koyo bearings.
This will be done on an exchange basis. I will need your old fan hub (core) so it can be rebuilt for the next person in need.
Purchase will include free shipping in US.
(slight shipping up-charge when shipping to Canada)
PM or email if you are in need of a rebuilt fan bracket.
In stock and available for immediate shipping.
*Koyo bearings are the primary bearings used in all Toyota vehicles and are very high quality bearings.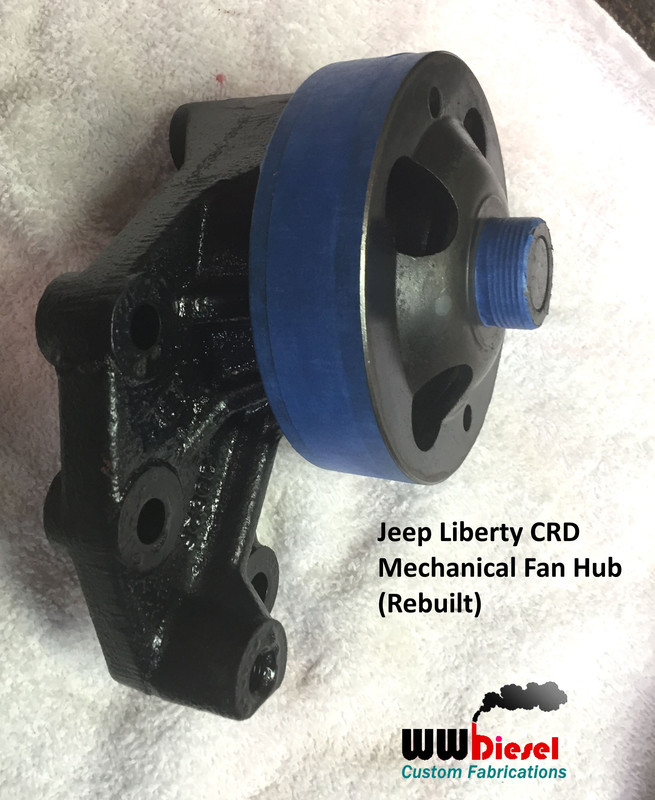 _________________
Proud Supporting Vendor of LOST
05 Jeep Liberty CRD Limited

Ironman Springs/Bilstein's
Yeti Stg4 MaxTune
Weeks ElbowKit/BatteryTray
No FCV/EGR
Samcos/ProVent
SunCoast/Transgo
Carter Intank-pmp
2mic.Sec.Fuel Filter
Flowmaster/NOcat
V6Airbox
GM11 bld fan/NAPA HDclutch
IronrockArm/Cust.Mount
DodgeCummins,5"exh. Viair, Huge K&N