Sorry about the long post, but a lot of things to cover you touched on!
The 11 blade GM fan moves much more air (CFM) than the OEM fan and it moves more air flow than most any size electric fan that you can fit into the limited space of this vehicle.
Some on this forum have actually tried going totally electric and ended up going back to a mechanical fan and several installed the GM fan & HD clutch and reported much better results than the electric.
The 11 blade GM fan & HD clutch does an excellent job in low speed stop and go town driving as well and when towing heavy loads on a trailer.
That is the reason I pioneered finding a better cooling fan back in 2014 to help provide the engine with better cooling and help with AC performance especially when stuck in stop and go traffic. That is when I figured out the big GM Fan & HD Fan Clutch for the 6L V8 engine would fit and function on the little 2.8 diesel engine.
With the OEM metal fan, the only time I ever had issues of engine temperatures going above normal was when towing a loaded trailer. The higher temperatures also affected transmission shifting, but AC performance at slow speeds was terrible.
With the advent of installing the 11 blade GM fan and HD fan clutch, I have never had any more problems with engine temperatures and AC performance in our 100+ degree days with humidity near 100% is greatly improved.
_____________
As to the fuel line fittings back at the fuel tank. Yes they are push on gasser type fittings and are not designed nor do they work well for vacuum fuel systems, they are designed for pressure fuel systems. So when used in a vacuum fuel system, they can and will allow air to be sucked into the fuel system.
Some owners have removed both of the push on fittings, one at the tank end, and one at the metal pipe end where it attaches to the frame.
(Still requires dropping the fuel tank to get to the fitting on top of the fuel tank module. Might as well put in an intank fuel pump while you got the tank dropped!)
They replaced them with diesel rated hose and used either screw type clamps or crimp on clamps for a sure seal.
But, if you install an intank fuel pump, it puts the entire fuel system under low pressure (12-14 psig) from inside the fuel tank all the way to the back of the CP3 injection pump.
If you have a leak anywhere, it will be self evident very quickly under pressure as fuel will leak out instead of air being sucked into the system.
So the push on fuel line fittings will work just fine in a pressure system; mine are still in service with zero issues.
____________
As to other wiring issues, anywhere the harness is subjected to the constant rubbing and vibration of the diesel engine.
One known area that a few have had problems is where the harness passes behind and under the alternator bracket, it can rub there and cause a short.
Just a good overall inspection of all the harnesses in the engine bay area and renew any spots where the plastic sheathing has or is coming off, or any lose taped areas, or any places where the a harness is under stress or tight against the vibrating engine.
This is a picture of my harness when I was redoing it before I put it back in place to give you some ideas.
Not a lot of work or money involved, but could save you a ton of problems and headaches.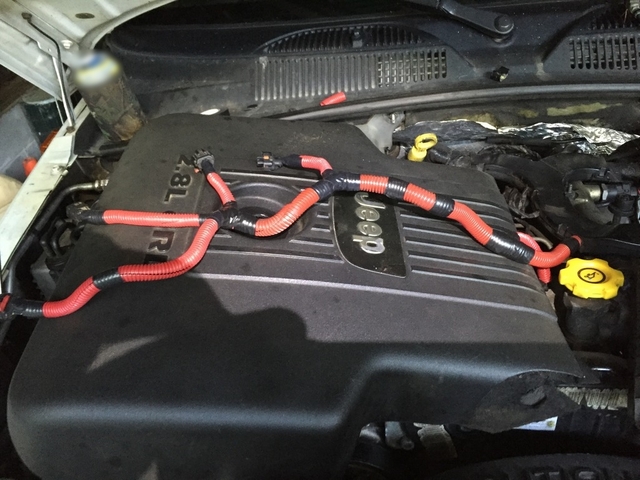 _________________
Supporting Vendor and Moderator of LOST
05 Jeep Liberty CRD Limited

Ironman Springs/Bilstein/Shocks
Yeti StgIV Hot Tune
Week's BatteryTray
No FCV/EGR
Samcos/ProVent
SunCoast/Transgo
Carter Intank-pmp
2mic.Sec.Fuel Filter
Flowmaster/NO CAT
V6Airbox/noVH
GM11 Bld.fan/HDClutch
IronrockArms/wwdieselMount
98 Dodge Cummins 24 Valve