WWDiesel wrote:
There have been endless posts on the timing of the CP3 pump and in one very intensive discussion where I believe Keith from GDE proved that timing does make a difference....the pump is a three cylinder pump with 120 degrees between pump actions being used on a 4 cylinder engine which has 90 degree cycles The CP3 shaft is keyed to the drive gear and indexed such that timing can be set to coordinate the pressure waves of the pumping pulses with injection events
That makes great sense - thank you!
Quote:
I always questioned why would VM go to the trouble to put index and timing marks if they did not have a purpose?
As I go deeper into this motor, I have a lot of questions about why VM did what VM did.
In my last post I wasn't thinking about "the camifold" so I didn't realize how close I was to pulling the head off. Rockers looked good to me: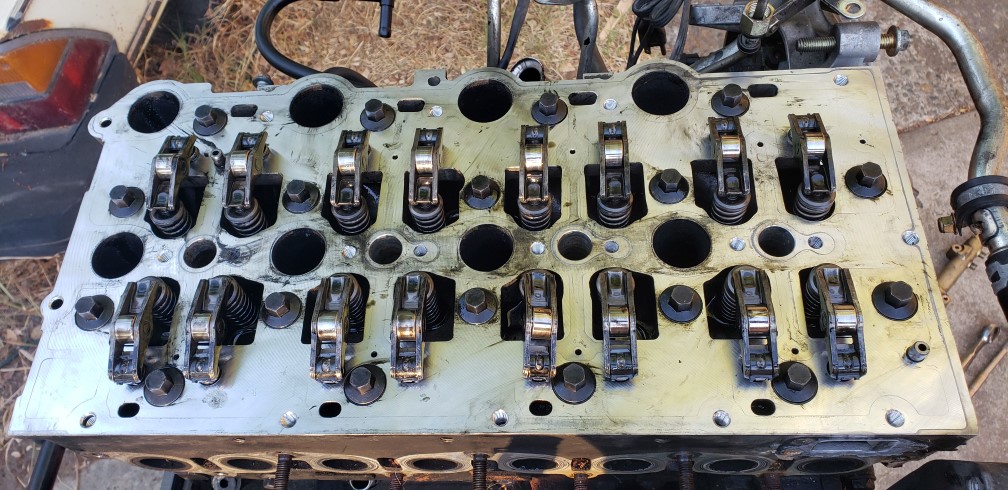 TBH, they seem pretty stout... I'm surprised one could break! The only thing that gave me pause is one of the #2 exhaust rockers did not come out intact... the "sleeve" separated and stayed inside the head. It was obviously easy to remove, but I do wonder why it came out in two pieces whereas the others came out in one. Maybe for no reason!
The head was a bit of a bear to get off - those head bolts are no joke and my only 11mm socket is 3/8" … I was constantly worried it was going to shatter, but it held together. Underside looks great: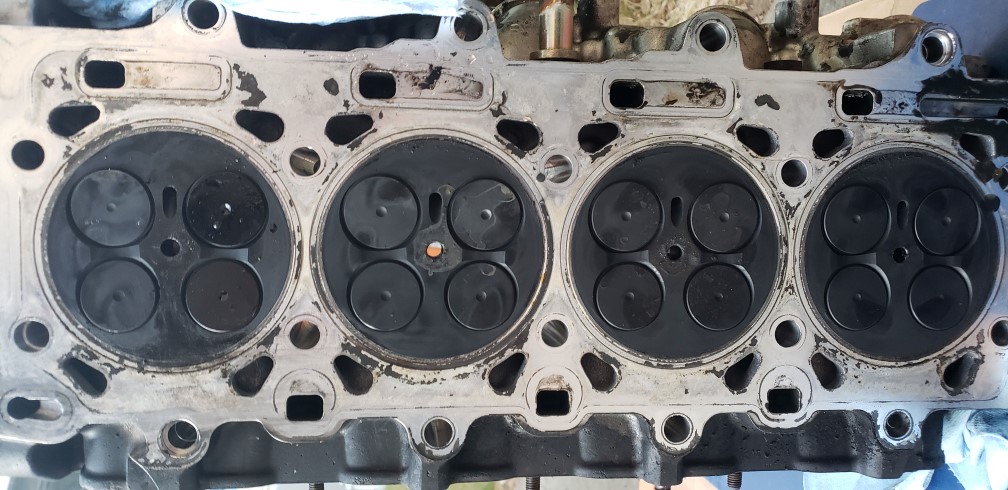 The head gasket looked great, no sign of issues. Piston tops and cylinder walls all looked great as well. Seems like a healthy motor so far.
Three of the exhaust manifold studs are VERY fond of their current location, so they are soaking in penetrating oil now. Hopefully they are more interested in coming out this evening. Once I get them out, the head can go to the shop. (If I leave them, they will charge me to remove them, so...)
Sure does look like the source of the leak continued to be the RMS even after it was replaced. Now I need to determine if it's that rear carrier's fault, or I have a crank walk problem. I can't imagine the top end of a high mileage motor look this good if the bottom end is trash, so that gives me hope. OTOH, if it's not something like that I am gonna be a little upset I paid someone a grand to fix a problem that didn't actually get fixed.