Don't stress over the fuel heater plug! It does not provide a lot of actual heat into the fuel and is pretty much useless in warmer climates.
When found leaking, many owners have simply unplugged (disconnected) it, cleanout the connection cavity on the housing good with brake cleaner, then fill the cavity full with some silicone sealer, let it cure good, and forget it.
Information wrote:
As the CP3 injection pumps (squeezes) the fuel and increases the fuel pressure up to the extremely high pressures used in the fuel rail and injectors, it adds a lot of heat to the fuel.
The CP3 injection pump also uses the incoming diesel fuel to "COOL" itself (internals). So any diesel fuel leaving the CP3 injection pump and / or injectors contains a lot of BTU's from being worked so hard.
There is a fuel temperature sensor integrated into the fuel filter module, on the inlet side of the fuel head.
The sensor is used to detect the temperature of incoming fuel and is measured/monitored by the ECM.
The ECM uses this information (reading) to calculate optimum engine performance under all driving conditions.
If the incoming fuel is too warm, rail system volume will be lowered which will affect engine performance especially in hotter driving conditions..
*The fuel quantity solenoid reduces flow to the fuel rail & injectors, excess heated overflow return is reduced and fuel temperature is lowered.

That being said; Some owners like myself, have fitted a "Fuel Cooler" to the fuel return line to cool the diesel fuel BEFORE it is returned to the fuel tank and certainly don't need anything providing any additional "HEAT" input into the fuel.
Fuel Return Cooler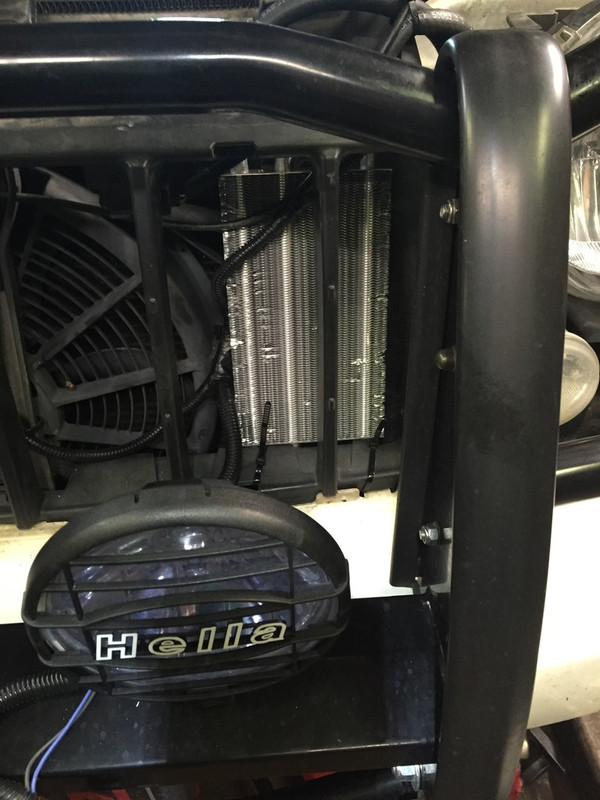 _________________
Supporting Vendor and Moderator of LOST
05 Jeep Liberty CRD Limited

Ironman Springs/Bilstein/Shocks
Yeti StgIV Hot Tune
Sasquatch BatteryTray
No FCV/EGR
Samcos/ProVent
SunCoast/Transgo
Carter Intank-pmp
2mic.Sec.Fuel Filter
Flowmaster/NO CAT
V6Airbox/noVH
GM11 bld.fan/NAPAHDClutch
IronrockArms/wwdieselMount