SJBrooks wrote:
Thanks WW! Do you, or anybody else, have any experience with either of those particular in-line and screw-in versions? If not those, can you or anybody else recommend a particular one? Has anybody added a second battery to their CRD? If yes, how did you do it?
I greatly appreciate the info received so far, as I'm trying to get this done well before winter starts here in NM!
Steve
Sent you a message.
I reside in the deep south, so cold starts is a non-issue for me.
But if I were to build one of these add on intake heater kits, I would look at the amp or BTU rating of the heaters for the most efficient unit.
While the screw in heaters are simple, they are small and may not provide as much heat as the inline grid type heater.
I like the looks of the inline grid heater, but a drawback to it is it very expensive, well over $300. For that kind of money, you could just install one of the webasto diesel heaters.
If I were building one for my Jeep and I needed a lot of heat for extreme cold weather starts, I would consider installing two (2) of the screw in type heaters and activate them a little longer time period than 10-15 seconds for pre-starts in extreme cold temperatures.
As to the battery: IF you replace the stock battery with a very good group 65 AGM, you should be able to get by with a single battery. See my gp. 65 battery installation picture below.
Since there is very little extra room in the engine compartment to fit a second battery, you could put one in the rear cargo area in a sealed battery box and use large battery cable wire to run the supply all the way to the front engine compartment. See Picture No. 2
Keep in mind, there was one member on this forum who actually fitted two batteries where the current battery sets, but I could not find his post with pictures.
Personally I think one good very high group 65 CCA rated AGM battery should work just fine. If I wanted a lot more CCA rated battery, I would consider trying to fit a group 31 battery, they have some impressive numbers.
Group 65 Battery installed.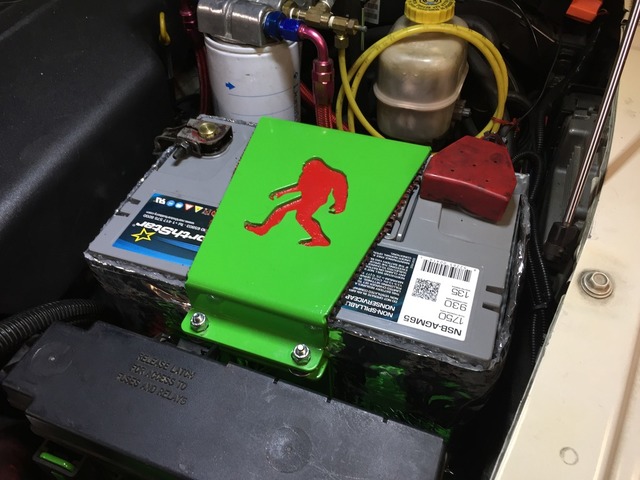 Picture No. 2, Sealed Battery Box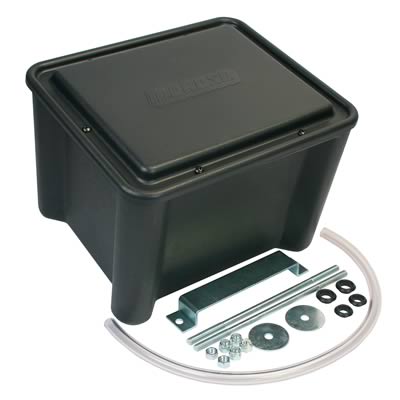 _________________
Supporting Vendor and Moderator of LOST
05 Jeep Liberty CRD Limited

Ironman Springs/Bilstein/Shocks
Yeti StgIV Hot Tune
Week's BatteryTray
No FCV/EGR
Samcos/ProVent
SunCoast/Transgo
Carter Intank-pmp
2mic.Sec.Fuel Filter
Flowmaster/NO CAT
V6Airbox/noVH
GM11 Bld.fan/HDClutch
IronrockArms/wwdieselMount
98 Dodge Cummins 24 Valve