Since this has turned to an ongoing remanufacturing process and has gained a lot of interest I have moved alot of important information to this first post such as the description of the final design, pictures, cost, part numbers, options, specs, and the current waiting list (updated weekly to bimonthly depending on changes):
I make these a few at a time and in my spare time only and there is a waiting list that I will post below.
I will be doing more work on these on the weekends when I can though I have a lot of commitment here in Australia and little free time. Sorry I can't get to you all sooner, but I will as soon as I can.
Since many of you have requested information, dimensions, diagrams, etc, Here's the requested information for the housing:
Required new parts for conversion:

- Water outlet from a 98-01 Kia Sephia 1.8L DOHC

- Thermostat 192º or 180º for a 95-99 Hyundai Accent 1.5L DOHC or SOHC (same)

- Radiator Hose (upper) for a 93-97 Dodge intrepid 3.3L (upper hose-cut to fit)

Diagram and dimensions of my insert and intermediate plate
Please note that the gasket material for the intermediate plate must be 1/8" thick 70A durometer hardness (preferably Buna-N Rubber) to set the correct height of the thermostat to match the bypass port when it is open. This has been used to calculate the dimensions of the bypass port insert height when the gasket is installed and compressed. If you choose to use a different material or thickness you will have to adjust the height of the bypass port insert accordingly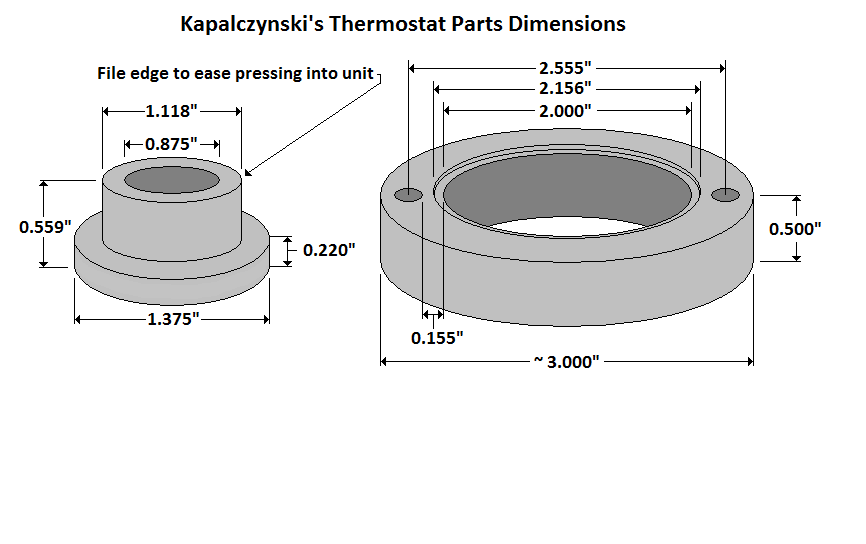 UPDATED REQUEST WAITING LIST (last update Aug 2017)
(LIST CLOSED FOR NOW)
geordi - mar28 (Unit shipped out 30 Dec 2010 - Core out on loan)
tdiwyse - apr 1 (core donated to project)
stoutdog - apr 4 (core received [donated by papaindigo - THANKS!], payment received, unit shipped)
squeeto - apr 4 (core received, [donated to squeeto by Europachris - THANKS!] payment received, unit shipped 27 Sep 2010)
nelson15 - apr27 (unit paid (inc core charge), completed and sent out)(core received/refunded)
bugnout - apr27 (core received - Paid and unit sent out APR 2013- Thanks!)
dgeist - apr27 (core received) - Paid & Shipped 3 Feb 2014
CATCRD - apr29 (core received) - Declined to purchase, Unit will go to next person that does not have a core and wants a unit.
mikey1273 - may1
papaindigo - may9 (core received) - Paid and shipped 20 Nov 2014
yakers - july14
fastrob - july31 (core received)
kdlewis1975 - aug8
westfork - aug13
Gerge - aug16
CRD Joe - 19 Aug
arengant - 07 sep
crawdad-480 - 15 Sep (core received)
Unclebob9 - 15 Sep
fnordmorph - 19 Sep
dthdcrd - 24sep
Buster - 24 Sep (core received)
kccrd - 24 sep
TJ2 - 27 Sep 2010 (core received)
Drewd - 28 Sep 2010
racertracer - 07 Oct 2010
mudpup226 - 09 Oct 2010
bigbillyboy - 18 Oct 2010
gsrjax - 23 Oct 2010
Roostre - 27 Oct 2010
striperman36 - 27 Oct 2010
MACKJ - 30 Oct 2010
Sir Sam - 01 Nov 2010 (core recieved [donated for sir sam from Joe Romas])
ColoCRD - 01 Nov 2010 (core received)
AJN - 01 Nov 2010
StanCRD - 05 Nov 2010
Scott Langohr - 15 Nov 2010
Hydraulic Jack - 15 Nov 2010
audiboy86 - 18 Nov 2010
FormerlyBankNote4x4 - 24 Nov 2010
ebenflow - 24 Nov 2010
snowman_crd - 24 Nov 2010
Rich - 08 Dec 2010
WolverineFW - 08 Dec 2010
ChesterCRD - 09 Dec 2010 (core received)
jdorris - 17 Dec 2010
castnblast - 23 Dec 2010 (core received) - Paid and Shipped 5 June 2017
KYMidnight - 25 Dec 2010
Greasey Bob - 30 Dec 2010
grywlfbg - 01 Jan 2011 (Cor received)
SargeIndustries - 10 Jan 2011
06PeakBagger - 12 Jan 2011
AZ CRD - 15 Jan 2011 (core received)
taroo - 15 Jan 2011
ATXKJ - 16 Jan 2011 (Core received)
hankdz - 16 Jan 2011
DocB - 16 Jan 2011 (New Core received, Payment received, Payment Refunded, donated new core)
0ilburner - 16 Jan 2011 (Core received)
Tim_Z - 17 Jan 2011 (core received)
woodtick - 21 Jan 2011
turbobill - 02 Feb 2011
scubadvr1999 - 03 Feb 2011
ColoCRDx2 - 06 Feb 2011 (Core Received)
painemann - 08 Feb 2011
C's CRD - 22 Feb 2011
GreenDieselEngineering - 22 Feb 2011 (2 cores received)
luckynumber5 - 24 Feb 2011
Mr wolcott - 25 Feb 2011
Please note: If you donate your core for me to modify the core then becomes my property to modify. In other words, once I have my time into the core by machining it, you cannot have the core back for free. If you donate it for me to modify and then decide that you don't want to buy the finished product, the core remains my property to sell to someone else.
(remember you do not have to send a core first, it just speeds up production of your unit as it will be done with the very next batch)
If you are not on here and should be please let me know so I can get you in the right spot. Also, if you donated a core and I do not have you on the list let me know so I can give credit to you for your generosity. If you have sent me a core for re-manufacturing also make sure it says (core sent) by your name. If not let me know so I can verify and update accordingly.
Remember I will ONLY add people to the list if contacted by email (awdv8@yahoo.com) though the list is closed for now due to slow production in Australia.
CORE DONATED LIST:
RTstabler51 (donated for R&D, currently a rolling core used in production, THANKS!)
Allen M. (donated for R&D, currently a rolling core used in production, THANKS!)
onthehunt (donated for R&D, currently a rolling core used in production, THANKS!)
LibertyCRD (donated for R&D, currently a rolling core used in production, THANKS!)
bugnout (core for reman, has xtra core to donate after replacement, THANKS!)
UFO (core donated for production, THANKS!)
*There are still some cores I haven't got on the list yet, I have received some and still need to add to the list.
Also,
please use your user name for the return address on your packages
so I know who the name on the box matches to on the forum.
Thanks to everyone that donated cores!! This project wouldn't have happened if you were not so kind and it is VERY appreciated!!!
Here's a quick preview of the final product, more photo's below will show the unit and how it was assembled.
Here's the full parts list of the kit - comes with the thermostat installed in unit (torqued down to 50 inch lbs) and ready to go:
- Thermostat of your choice (192ºF or 180ºF)
- Heavy duty reusable gaskets (High Temp Buna-N rubber, is reusable and doesn't wick water through material and provides better seal)
- Stainless steel hardware (2 SS nuts/2 SS washers/2 SS studs installed and permanently sealed)
- Lower aluminum port insert (part of second design to fully block off bypass port when thermostat is open...press fit in housing)
- Intermediate adapter aluminum plate (reseals original roll crimped edge to ensure there are no leaks there)
- Water outlet housing (purchased new from dealership wholesale because there is not a after market source for this yet)
- Upper radiator hose (required due to different water outlet size)
- OEM gasket (to block)
- Hose clamps
- Part numbers & matching vehicle applications for future radiator hose and thermostat replacements so you can by your own replacement parts at your local parts store.
The cost to remanufacture/machine and to cover metal, new parts listed above, tool costs, etc is $165 + shipping. Also an additional $100 core charge if a core is not supplied.
I accept paypal or check, money order, etc as long as it clears. Buyer pays Paypal fees. I do accept checks/money orders as an alternative.
There is an ADDITIONAL core charge of $100 to ensure I get your old housing back (refunded when I receive original housing) if a core is not supplied ahead of time and I have to remanufacture one of the rolling stock cores. This $100 core charge will be refunded upon receipt of your old thermostat unit.
Thermostat temps are available in 180ºF and 192ºF.
Brass fittings are available for $12 each or $24 for both to replace the plastic ports if yours are damaged or if you simply want to upgrade to brass for longevity. The little 90º plastic elbow is a frequent one to break so be careful removing the hose on this port if you do not want to have to replace it.
Additional thermostats are $10 each for 192º or $12 for 180º F (cost at Autozone) - As I mentioned I am not here to make tonz of money off you guys, I was a fellow CRD owner, started and completed this mod to my own jeep before selling it for a grand cherokee that I was able to lift higher. I have a soft spot for the CRD's and upon request I have decided to continue this project to help other CRD owners.
I will also include a vehicle application list and part numbers with the unit so you can replace parts if needed or buy your own spare thermostat if you like.
Please note that the batches sometimes take three months or longer to complete depending on size of the batch and the free time I have. If you already have an extra core you can send it to me and it will be done with the next batch I do. Please do not pull your thermostat causing your vehicle to be inoperative and send it to me expecting I do it right away. I respect the waiting list and will do people in order with the rolling stock for the people that do not have cores. I will remanufacture cores sent to me along side the batches I am currently working on so turn around time will be quicker if you send me a core to work on.
Here are some photo's of the finished assembly:
There was a lot that went into this latest design and it performs flawlessly. It also includes New upper radiator hose, clamps, and all the necessities to bolt it up and be on your way (except antifreeze).
I love the new gaskets, hopefully you should never have to replace them because they come off easily and are thick/durable enough not to tear, etc. The OEM gasket to the block should never have to be replaced/removed again (unless it fails) since you will not ever have to remove that part of the housing again. The temp sending unit can stay installed from now on since it does not have to be removed for a thermostat swap, the hoses all stay attached also, so a thermostat swap is simply 2 bolts now and slap it back together (torque nuts to roughly 50
inch
lbs). If you tow and want a cooler t-stat for summer and the warmer one for winter its a quick swap now.
So that's it, heres some pictures:
Here is the bypass port insert that gets machined and pressed in
Machining the intermediate plate
Port insert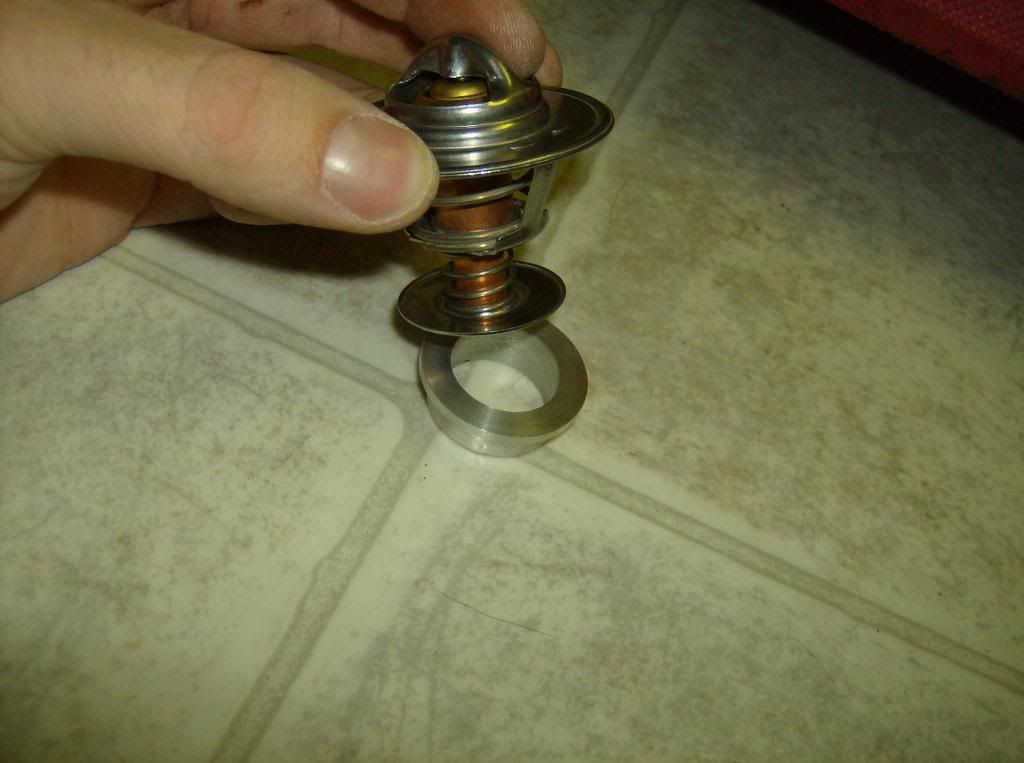 This gets pressed into the bottom of the unit for the correct bypass port height
This shows the bypass port insert in the unit as well as the gasket installed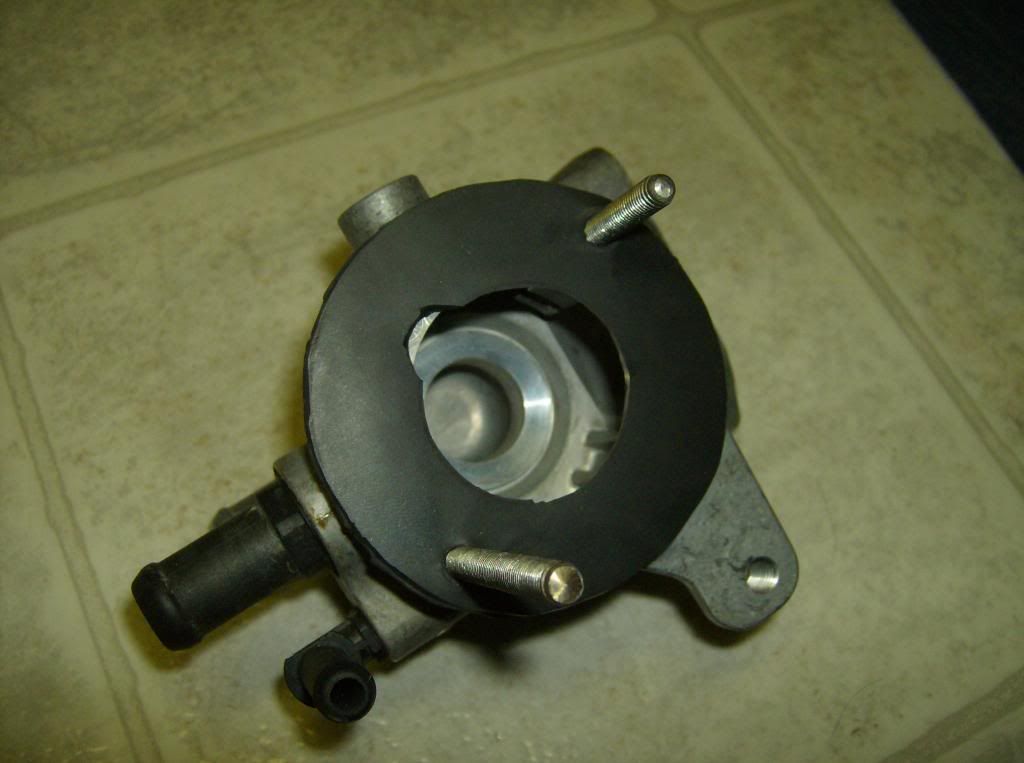 Thermostat goes on top
Aluminum intermediate plate is recessed for thermostat ans centers it
After the thermostat goes in the intermediate plate goes on with the recess down to center the thermostat
Assembled
Pressure testing to ensure there are no leaks prior to shipmentI used a PVC pipe end plug and machined the plastic thinner and installed a tire valve stem for the water outlet hose. I used 1/4" plate steel and a custom made gasket to block off the rectangle port. I bought a 12mm x 1.5 pitch bolt, cut it to length and used a rubber washer to seal off the sending unit port. I used plastic tubing so I could see pressure building. I cut larger rubber hose to put between the clamps and plastic tubing to ensure the plastic nipples would not be damaged by uneven clamp force.
I used a clear hose so I could see the pressure building
Here it is with no pressure
Here it is as I pressurize the unit
As you can see here it is pressurized to 30 psi
After I build 30 psi, I remove the compresser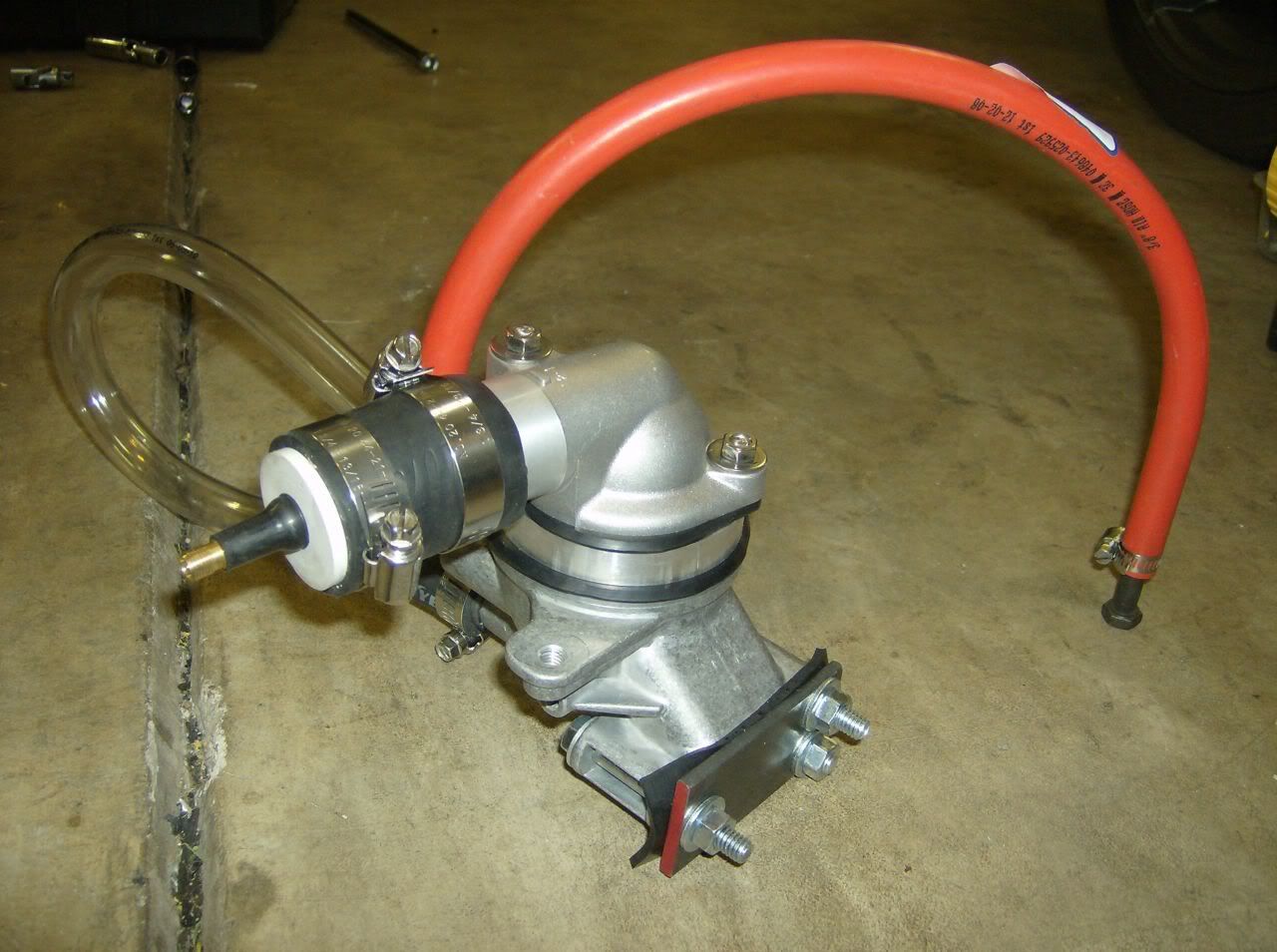 From the back you can see the custom cut bolt with rubber washer installed
A close up of the inflated plastic tube. Easy way to verify pressure remains
Lastly, the whole unit is submerged and checked for leaks with the 5 gallon bucket test
After passing the quality check, the unit is completely dried, the apparatus removed, and all ports are plugged with single piece clean paper rags to ensure no foreign packing material enders the unit during shipping. This way dissassembly is not required before installation on the vehicle.
Installed in the CRD Jeep Liberty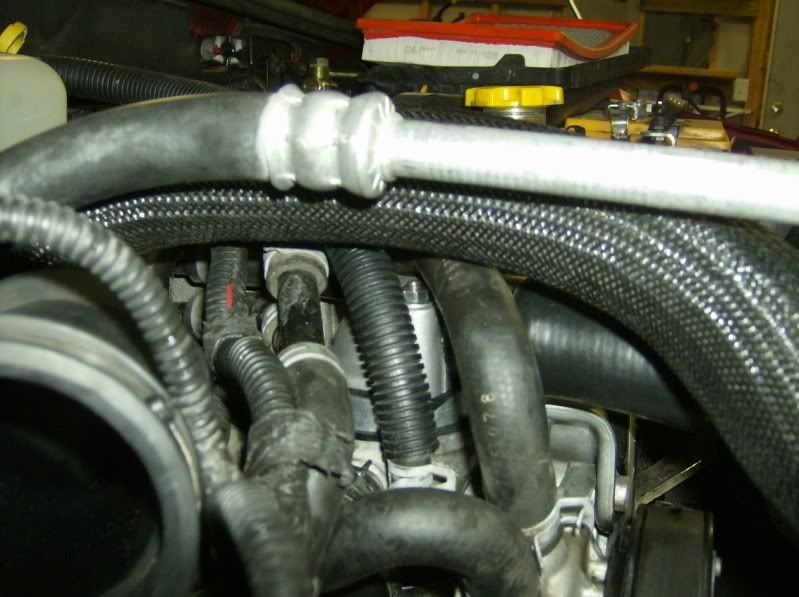 A pic of the dash with the new unit installed with the 192* thermostat.
Scantool shows an operating temp 190.5ºF at a constant cruise with torque converter locked (192ºF thermostat installed).
Temp briefly went up to 199ºF at a full throttle highway merge from a stop to ~80 mph.
Well, there you go....quality testing at its best!
- Mark
Below is the original post which is interesting to read through (the history of how this all got started) and has some good photos:
So we all know that if your Temp gauge is reading low we most likely need to change out the thermostat or we're killing our fuel economy...mine is roughly at the 3/8 mark painted on the pic below (thanks GDE for the pic). They run just over $100, and are a one piece unit rather than a simple thermostat.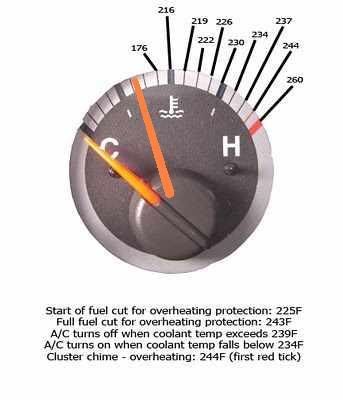 It is obvious to me that I will not find another like it for cheaper, But I was thinking of cutting the end of the thermostat housing off, machining the rim and seeing if theres enough room to drill/tap some bolt holes and install a more normal housing and a regular thermostat from a parts store. This would allow for easy and cheap future maintenance. What do you all think?
Thanks to RTStabler51 for sending me his old thermostat, I can take a further look into this idea. If nothing else I get to destroy an old part and get some cool pics in the name of science. LOL
I just took some more pictures on my camera. Heres some internal views for those that are interested and I will post more pics when i get it cut open.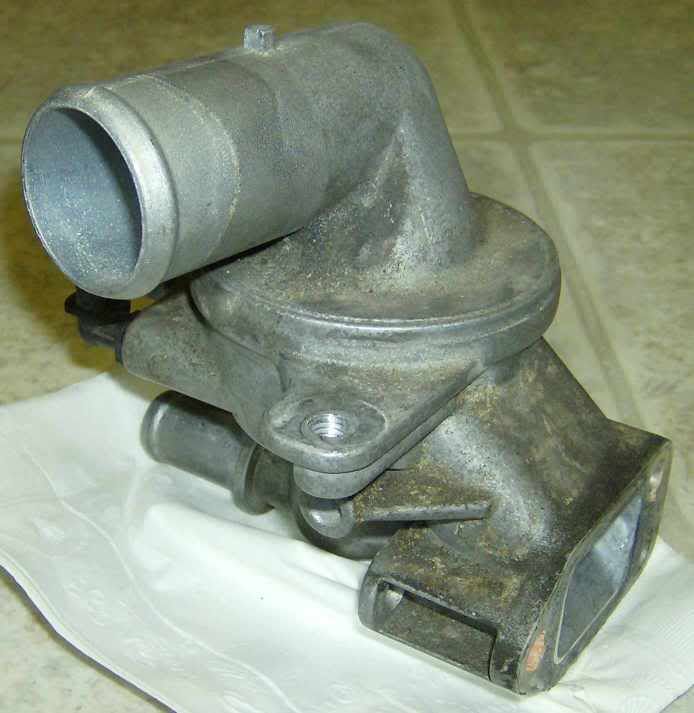 More to come when I cut it open.
OK, here it is: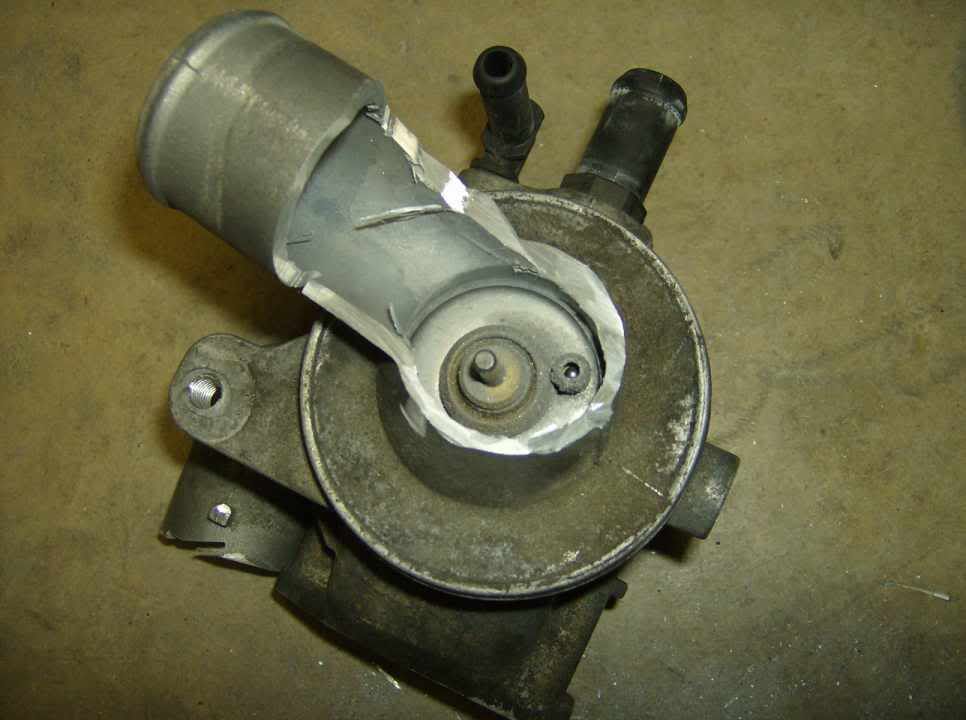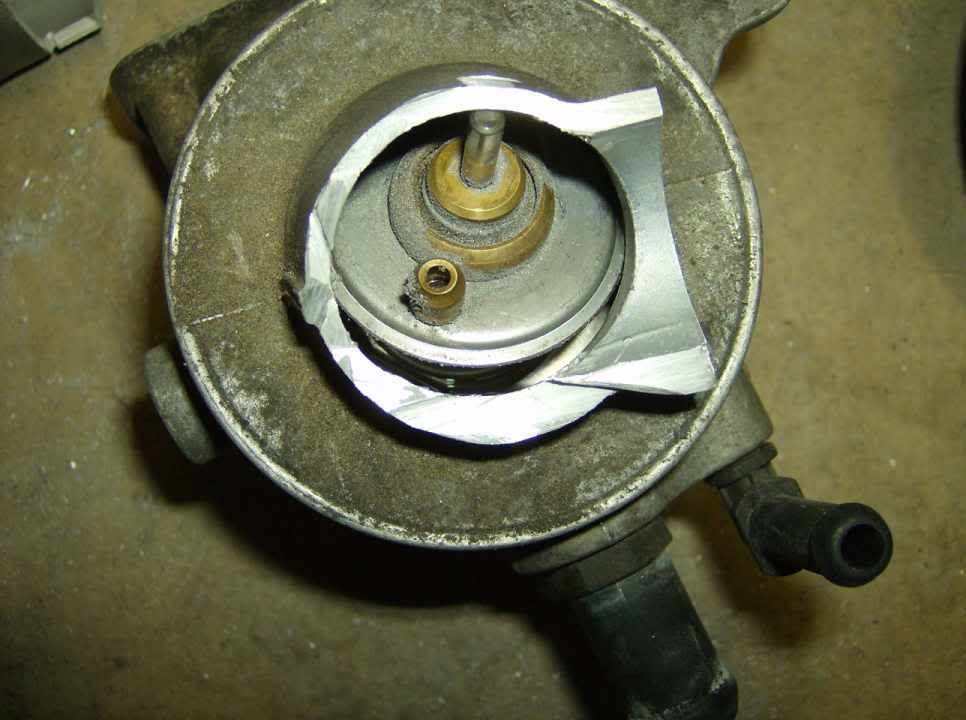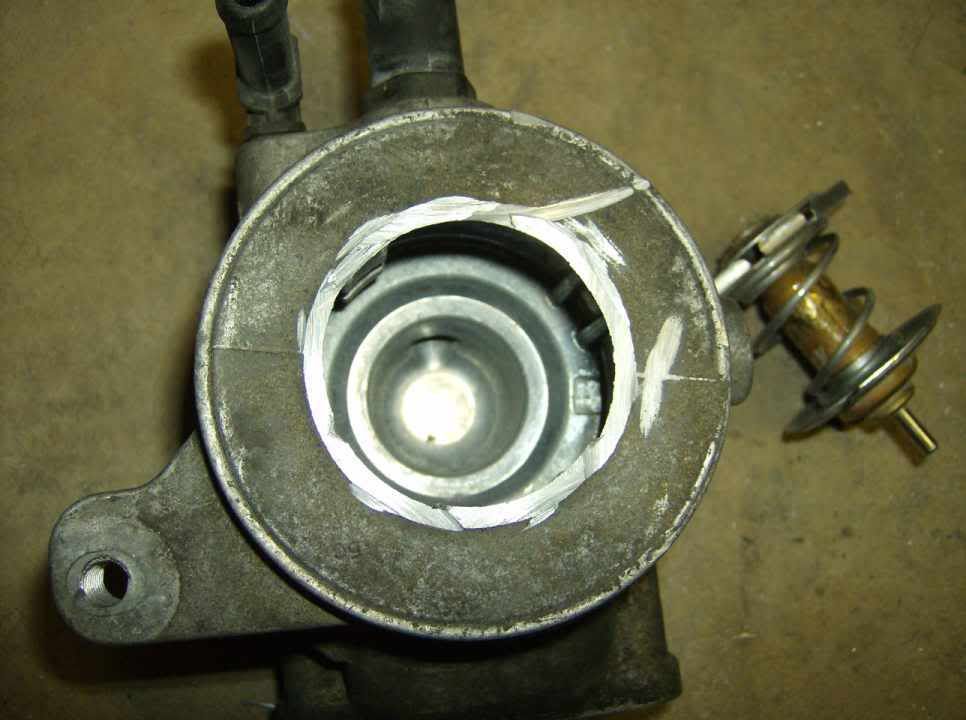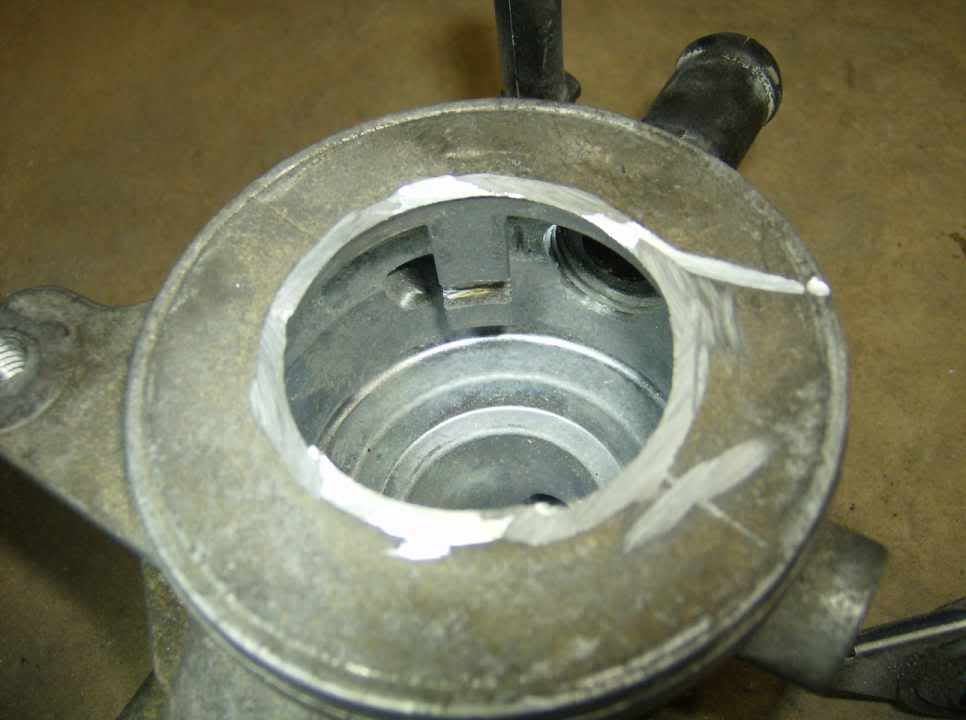 Thats it, so now everyone knows what it looks like.
So to convert the assembly to an easy maintenance type you would have to machine the surface flat, drill and tap holes, find a thermostat that would work, and a water outlet that would bolt up just to make it easy to buy an $11 thermostat every time it goes out. With the change interval for the thermostat probably every 50k to 100k miles I think I'd rather pay the $100 than do all that work. Just the same, I will go to the salvage yard tomorrow and have a look around to see if theres anything that jumps out at me. I may not find anything, but it's worth taking look.