I got a request for dimensions of the EGR block-off plate I made and used on my 05 CRD.
Used 14 gauge sheet metal available at any hardware store or Lowe's, etc. (can use metal from a metal can)
Tools needed:
8mm or 5/16 drill bit and drill.
Sheet metal shears.
10mm & 13mm socket and ratchet
Drawing enclosed.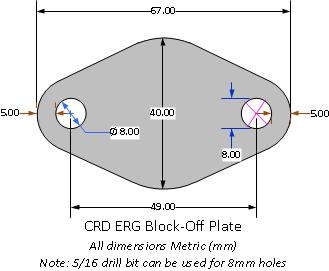 Not a bad job, took about two hours total to make and install plate.
Instructions:
Remove engine cover
Unbolt fuel filter assembly and pull it aside out of the way (do not have to unhook any wires or hoses)
Remove top bolt that holds EGR feed pipe to EGR housing
loosen bottom bolt enough to acquire a small gap between EGR housing and pipe.
Slide block off plate under top bolt hole on flange and insert bolt finger tight.
Fully remove bottom flange bolt and spin block off plate around till bottom bolt hole line up with bolt.
Insert bottom bolt and tighten both till tight.
No gasket involved as it is a machine fit.
Replace fuel filter assembly and tighten bolts.
Replace engine cover, Job complete, no more EGR feed.
Note: you may want to replace the two 5/16 rubber cooling lines going to the EGR while you are doing this; I did as both were very hard and brittle. Actually broke one of them while installing the plate. Used Gates 5/16 fuel hose as it is rated for way more pressure than the cooling system will ever generate.
Happy motoring...
_________________
Supporting Vendor and Moderator of LOST
05 Jeep Liberty CRD Limited

Ironman Springs/Bilstein/Shocks
Yeti StgIV Hot Tune
Sasquatch BatteryTray
No FCV/EGR
Samcos/ProVent
SunCoast/Transgo
Carter Intank-pmp
2mic.Sec.Fuel Filter
Flowmaster/NO CAT
V6Airbox/noVH
GM11 bld.fan/NAPAHDClutch
IronrockArms/wwdieselMount