Been a busy, normal type spring, and it rained today. Thought I'd get some pics of what I've done over the past couple weeks.
I've dealt with 'wet liners' for most of my days. I know what is acceptable, and what isn't. I also know liners are not a 'set it, and forget it' type part. They must not be taken for granted. This engine is no different in this regard. Granted, a 80k mile engine shouldn't even be a 'blip' on the radar in this area..
Clearances and interference fits can change, due to a couple things; Corrosion, erosion, improper engine heat-up, cool down, running at too low a temp, or just plain old galling of parts together.
Diesels, have much thicker parts. These parts retain heat longer, and tend to expand a little more than their gasser counterparts. These clearances are factored into the design, and when at optimum operating temp, final clearances and fitment are achieved. At that time, diesels are as tough as a bag of hammers. Before that temp is 'hit', moving parts tend to be a little on the loose side, and not very appreciative of full power bursts.
Everything tends to 'hammer' a little more when cold, and not expanded yet.
I've seen the after effects of what we call a 'dropped liner'. The liner gets it's interference fit ate away from poor coolant, poor original fitment, erosion, and the above mentioned running too hard at too cold a temp. Shutting down before temps have a chance to equalize has it's part too.
What usually happens, quite quickly too, is exhaust gasses are escaping past the liner 'step'.. first sign is coolant being pressurized, and sent out the overflow. Very quickly, the 'torching' and corrosion caused by mixing of exhaust gas will eat out even more of the interference fit. It's all over then, folks!! It's just a matter of miles before the liner itself can bob up and down inside it's parent bore. It gets real ugly, real fast. Don't ask. Coolant makes a very poor lubricant, and the block usually is destroyed.
I think the raised part of the liner, (the part that extends up through the gasket) actually helps as a protective device too. Helps shield the blast away from the edges of the laminated gasket, and should greatly reduce any erosion/torching effect it may have. Plus, it also protects the sharp corner of the piston when it's @ tdc. Can't have the top 'hanging out'!!!
So, unlike any other diesel I've had apart, I took the time to measure the liner protrusion..
I'm glad I did. Pissed too.
I used a simple bridge dial indicator. I had to buy a new one because my original one is for 5-6 inch cylinder bores, and mine was too large.
From this point, I'll be using 'inch' measurements. This is what my test equipment is set up with. I'll make the necessary conversions to mm. as I go.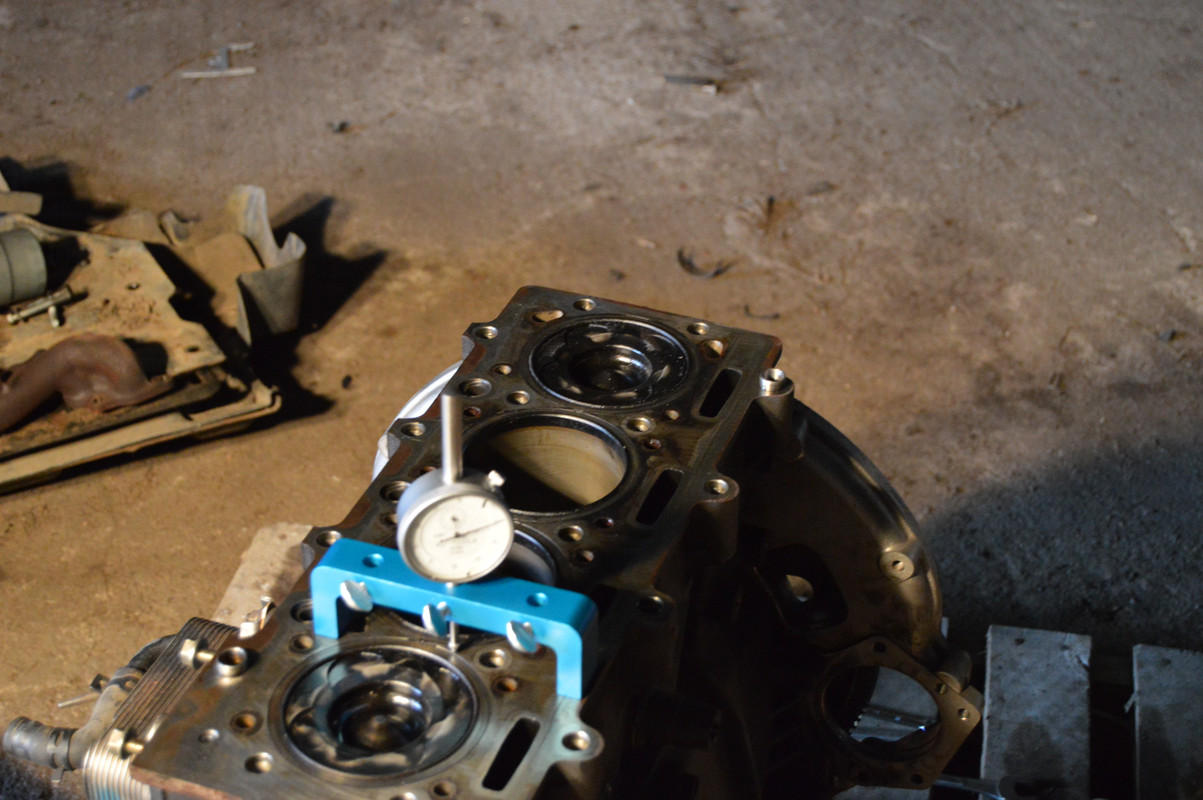 So, starting at Cylinder #1, I checked 4 locations of the liner. East, West, North, South.
Also just for fun, measured the 'ring' that extends the actual cylinder above deck, and then the actual piston protrusion, also above deck.
Pistons measured right above the wrist pin area, so not to be affected by 'rockering' within the cylinder itself. Mine all were .021 - .0215 inch above deck.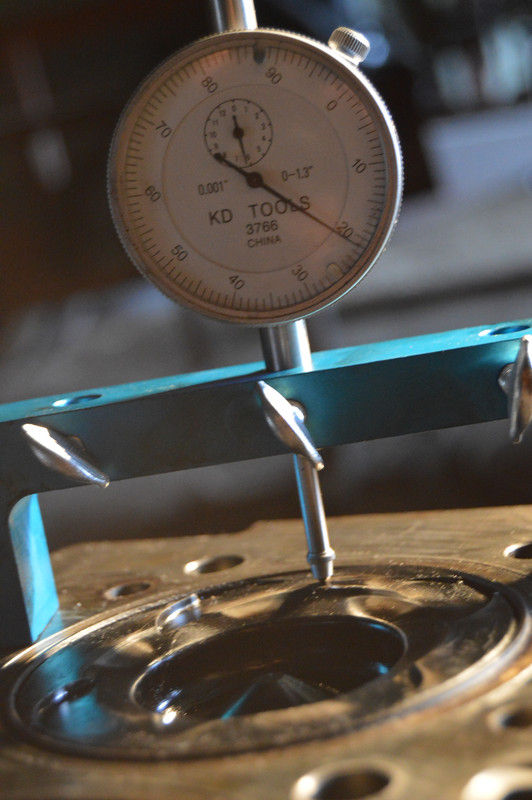 For those that are curious, my 'ring' protrusion was .041 inch on all 4 cylinders. No problem even using the thinnest gasket. .0519 is the thinnest one available. In these terms, a hundredth of an inch is as good as a mile. (.0519 minus .041 equals .0109 inch ) Mine came from Italy with a one hole gasket (.0559) So tons of room there. Tons of room for the so called issue of liner to head interference.. I still can't understand how someone got their liner to 'hit' the bottom of the head.. My gasket was a 1 holer for the piston to valve clearance. Don't confuse the two. When piston is @tdc, the closed valve actually is sitting within the valve pockets that are machined into the piston top. That clearance is .71-.86mm. This is why a certain head gasket is selected.
Onward ho.
This pic shows one of the 2 out of the 4 cylinders that actually 'just barely' made spec. 0.000 protrusion @ gasket area.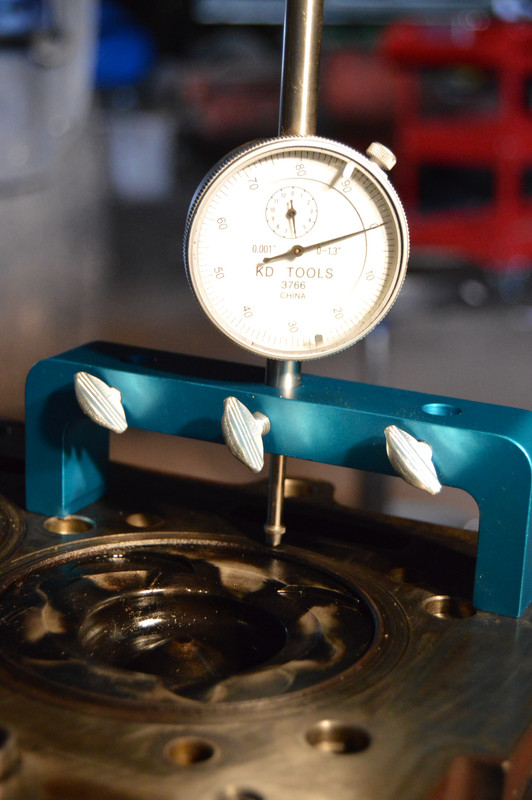 Cylinder #1 was the worst, getting progressively better as I went rearward. #4 actually was 'almost' good to go.
So, to sum up this test,
#1 cylinder was 'sunk' The worst side was along the exhaust side of the block. It measured .00075 below deck. Mid point, the position where the cylinders are closest together, measured .0005 below deck. Intake side; 0.000
#2 cylinder; .0005 below deck, along exhaust side, - .00025 @ mid point, and intake side showed 0.000.
#3 cylinder, .00025 below along exhaust side, .0000 mid point, and intake side was .0000
#4 cylinder; .0000 on Exhaust side, + .0005 mid point, and intake side was also a positive .0005
When talking about tenths of thousandths, I'm talking about a miniscule amount. The problem I have is this is in the wrong direction. I'll be able to tell once I get the liners out, what has relaxed, or galled away. I'm not too worried about the difference in high to low .00075 from one side to the other. Getting it all 'above' deck is far more important. I do also own a cylinder liner bore trimmer, that basically 'trues up' a inconsistent parent bore.. I really hope it doesn't come to that. If those bores also measure only .00075 variance , I'll just leave them alone.
After really inspecting the deck surface, and the head gasket, I found areas that may not have 'officially' blown, but it wasn't far off!
There is no way a 'sunk' liner, can give enough 'bite' in order to seal. FSM wants a .000 - .0019 protrusion, (on new installs) no mention of what to look for on 'in service' engines. I've talked to VM specialists recently. They recommend 'pushing' the protrusion all the way up to .0024! Hopefully, with the shim kit, I can obtain somewhere between .001 and .002. It's all about what's in the box of shims! And hopefully, I can also maintain 'evenness' from liner to liner. We certainly don't want to see one liner sitting at .001, and the next one at .002, etc...
So, this ~80k mile engine actually shows more signs of it being a half million mile thumper.
I have changed my order of parts to include liner shims and O-rings, piston rings, (yep, I sent vmspecialist my serial number, and they said they have them, yippee, no need to buy new pistons!! rod bearings, and rod bolts. Glad they hadn't sent out the original order!!
Before I pop out the liners, I'll knock out the pistons, and crank. I'll run a ball hone down a little to give me a new finish. I just happen to have a 320 grit ball hone for this size cylinder..
Then I'll go ahead and pop out the liners. Running a hone on top of an installed crank is dirty business.. so I'll make life easier and pop it out beforehand.
Next; hanging the engine on 'big bertha'.