You got the right parts, but please add a new front pump assembly to your replacement parts! There are small bores and plunger valves in the front pump assembly that wear out with miles and age and the assembly should be replaced if you are dropping to replace the TC! (See Picture below)
As to the hesitation when first cranking on a cold vehicle after it sets for 24 hours or more: (applies to several Chrysler transmissions)
On my Jeep CRD, which in 2014 had the TC replaced, Transgo Kit installed, front pump assembly replaced, new Mopar filters, correct ATF with a 1/2 quart of extra fluid, and a Magnefine filter installed, it will still do the hesitation thing occasionally after setting for several days!
Now I routinely always start it up and immediately place the shifter in Neutral for ~10-15 seconds before placing shifter in Reverse or Drive.
You
DO NOT
have to rev up a cold engine up when you place it in Neutral, idle speed will sufficiently charge all lines with ATF in a matter of a few seconds.
Please Note: I own two Dodge trucks, one a Diesel, the other a 360 gasser, and BOTH of them will do the hesitation thing after setting for longer than a couple of days! The Diesel has a SunCoast TC. The 68RFE & 68RFE both use the same front pump assembly design as the 45RFE & THE 545RFE.
So I always place them in Neutral for a few seconds right after starting to allow the fluid lines and cooler to charge up just like I do the Jeep.
It does not hurt anything to get into the habit of doing this; it only alleviates the problem and is much better on the transmission...
The problem is caused by fluid draining back into the pan from the fluid cooler and cooler lines which are higher than the transmission. So when you first start it, it has to re-charge all the cooler lines, and fluid cooler with fluid which feed the TC. Only problem is, the pump is not pumping in Park, it only pumps in Neutral and all the other motion gears.
I also replaced the check valve in the valve body next to the spin on oil filter that some on this forum stated causes this issue in the Jeep; but it made little difference that I was able to tell!!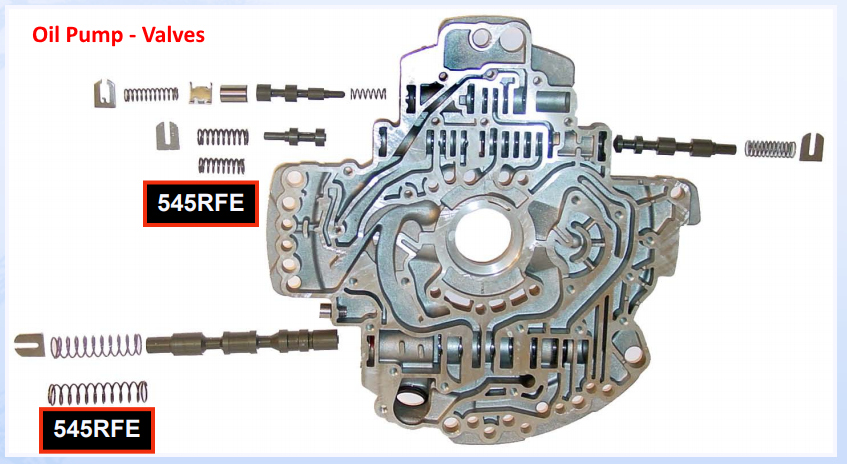 _________________
05 Jeep Liberty CRD Limited
Blk Brush Guard/Hella's/LED's
Ironman Springs/Bilstein's
Yeti Stg4 MaxTune
Weeks ElbowKit/BatteryTray
NO FCV/EGR
Samcos/ProVent
SunCoast/Transgo
Carter Intank-pump
2mic.Sec.Fuel Filter
Flowmaster/NOcat
V6 Airbox
GM11 blade fan/NAPA HDclutch
Ironrock Trilink
98 Dodge Cummins, 5"exh. Viair, Huge K&N