WWDiesel wrote:
fool4wheelin wrote:
I need to order parts and at this point I'm leaning towards the 2-hole gasket and proceeding from there.
The head gasket should be replaced with the same thickness, i.e. 1,2,or 3 hole as the one that is removed unless you have the head machined or replace pistons or connecting rods.
There are engineering reasons for the different thicknesses used as determined by the amount of the pistons protrusions above the top of piston liner.
Too thick a gasket and you loose compression, too thin and valve to piston clearance could be compromised to the point of contact.
The FSM covers these requirements in great detail...
Exactly.
As far as 'sealing' ability, no amount of added thickness above deck will change how the liner 'bites' into the gasket.
That ring of liner protrusion is THE PRIMARY SEALING OF COMBUSION. The rest of the gasket is to keep oil in it's passages, coolant in it's passages, and to maintain parallel distances between block and head.
(lets get this clear right now; I'm talking about the slight area the gasket sits on) letter 'a' in pic, not the part that extends upwards through the gasket.
This pic shows a recessed liner, because there are no shims installed. When in 'spec', letter 'a' should be 'zero' to .0019 positive height. VMspecialists even told me to 'push' it to .0024 inch.
Piling up thickness on top will not change the interference 'bite' in this area.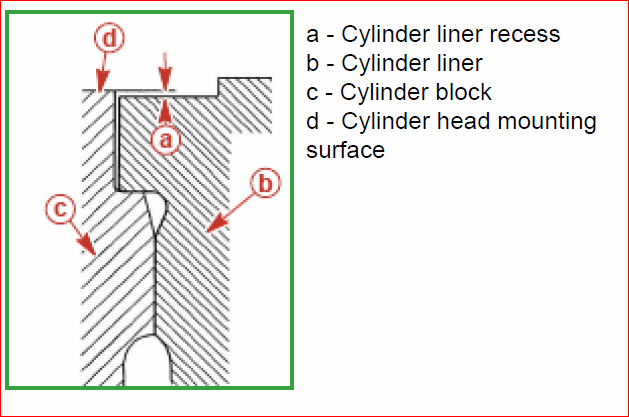 I agree with the machining of the head... only if the valves are not 'set' back into the new surface. If done, (I don't recommend it, because of the nickel plating on the head surface) machining the head will 'protrude' the valves the same amount of material which is removed from head. So a valve job will be required to 'sink' the valves to proper height. Then, everything is 'same, same'.
Milling the block will certainly protrude the pistons!!, placing them closer to the head, and will dictate using thinner shims to 'set' the liner protrusion to spec. ( or milling the pocket the liner sits in the same amount) Milling the block will dictate using thicker head gasket, and resetting the liner height.