Science and Energy wrote: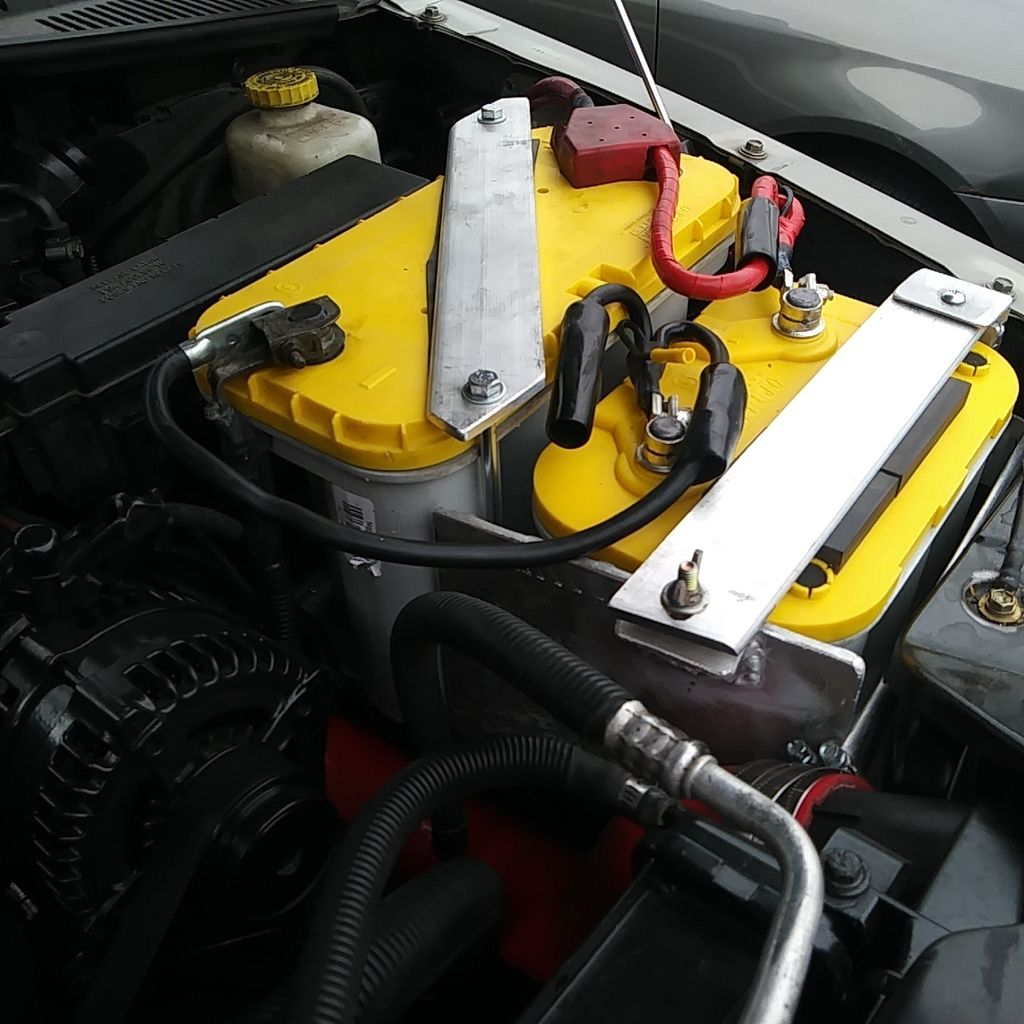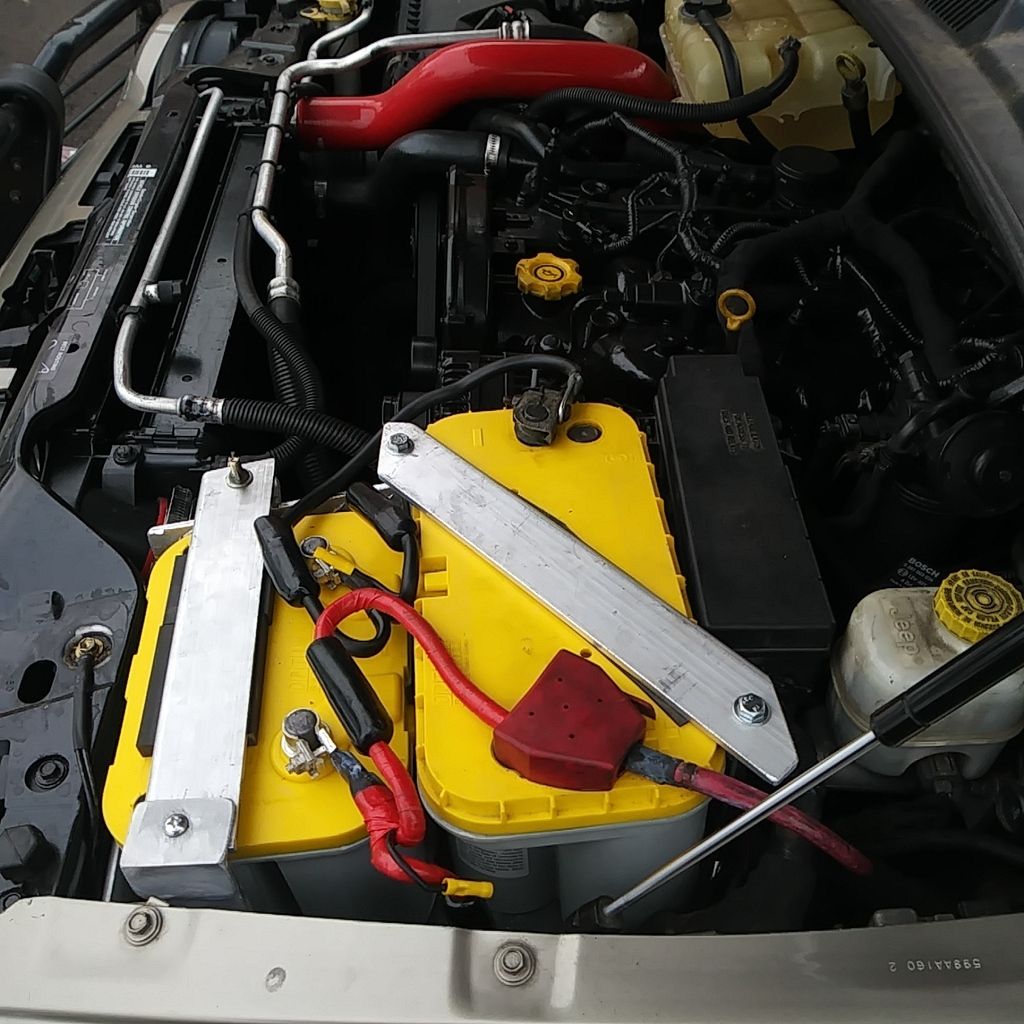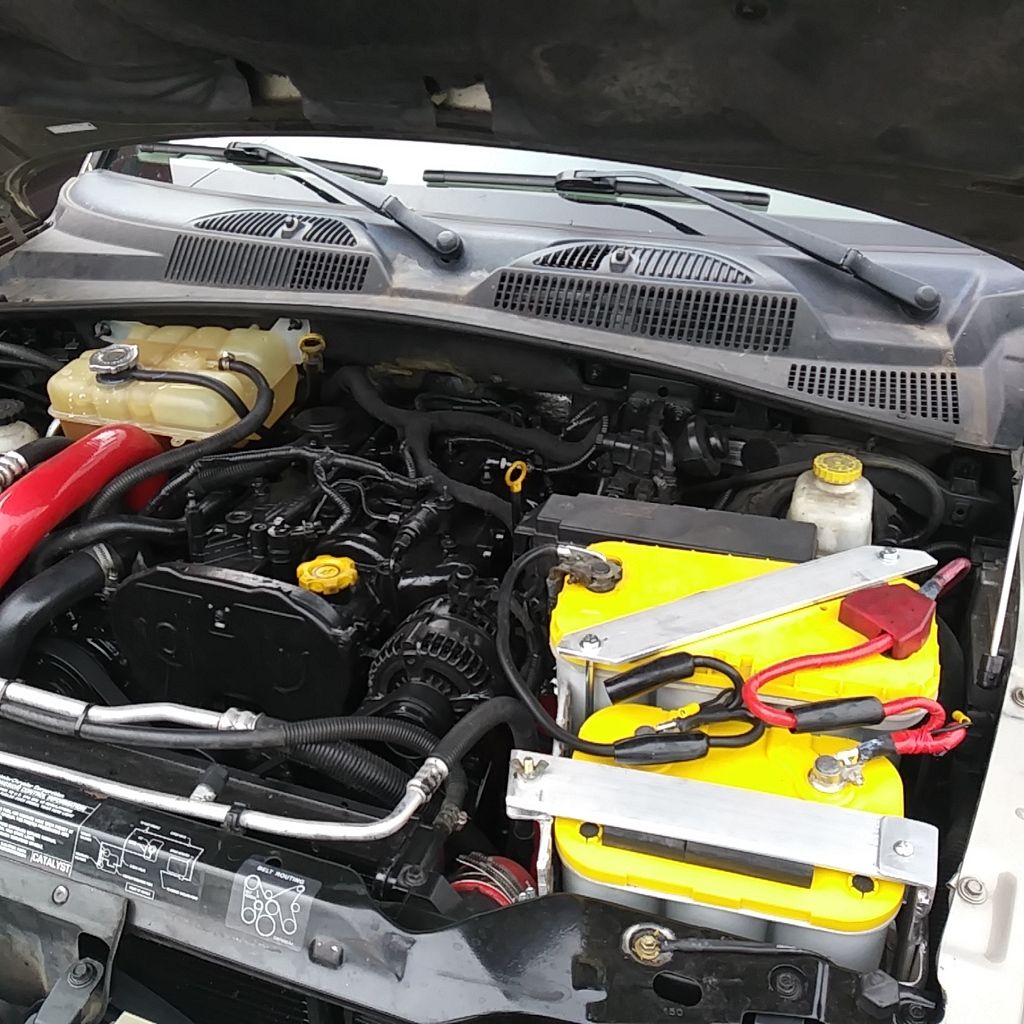 The Duramax LLY grid heater is in also. Anyone installing this heater needs to cut their own gasket and not reuse the metal gasket. It acted like a reed and sound like my Jeep was powered by a Black Rider from Lord of the Rings (Nazgûl) as it leaked boosted air. I reused the stock elbow and attached the grid heater and its' flanged hose barb to that. The Mishimoto hose was perfect length and placement. The Duramax hose barb is about 0.25 inches bigger so it took some effort and silicon lube to slip the hose in place. (skip the sex jokes)
The fuse box can be easily flipped to the other side of the batteries as show. I still need to mount that box permanently. I cut a flat aluminum tray and bent one side up on the engine side. I welded some brackets on to retain the batteries and used rubber where I could to promote vibration absorption. There is an ear welded to the wheel side the re uses one of the old trays mounts. Below the tray is a wood and rubber spacer/support that uses another of the old mounts. It is pretty solid and I can shake the Jeep by the batteries. I did this in a hurry for state inspections so it is not as pretty as I would have liked but darn, I got 1700 cca and it works so I am happy. The Jeep starts totally different now. I didn't realize how bad the last single battery had gotten. I got the batteries returned at an auto parts store for 60 each.
I will use a starter solenoid for the grid heater. I am told it should draw about 90-110 amps. I am not sure if I will use a battery isolator or not.
Isn't that an Optima D34? The Optima D34 (yellow top) battery is hardly a good choice for a 2.8 CRD KJ. For a start it only has 55Ah capacity, 22Ah less capacity than my 096R XD, and with 750CCA (750 Amps Cranking power), it has 30 Amps less cranking power too. Plus, it only has a 3 year warranty...The Advanced 096R XD has a 5 year warranty!
The D34 is also 1kg (2.2lbs) heavier and to cap it all off, the cheapest price I could find for a D34 here in the UK is £176 ($233) on ebay UK. It's £211 ($279) on Amazon UK!. But on ebay UK the Advanced 096R XD is only £75 ($99)!
And the Optima RTS4.2 (red top) is even worse...While they claim it has 815CCA (815 Amps cranking power), it only has a capacity of 50Ah, so it can't supply that for very long...The 096R XD can supply 780CAA for a lot longer...And that can make a big difference in the winter. Whatsmore, the RTS4.2 only has a 2 year warranty, 3 years less than the 096R XD, which doesn't exactly inspire confidence in it. It's 1cm taller too, which may or may not cause it to clash with the bonnet (?)...It's only saving grace really is that it's 1.8kg (3.96lbs) lighter in weight. The cheapest I could find was £156 ($206) on ebay UK, which is still more than double the price of the Advanced 096R XD!