Best I can tell from looking online, the bolts that mount the adaptor plate to the back of the engine block are M10 x 1.50 mm
So you would use M10x1.5 bolts of the correct length for you particular engine stand support arms.
If you have an engine available, it would be very easy to verify the bolt/thread size for these six threaded holes.
If this size is not correct, hopefully someone post the thread size.
These are the OEM PN's according to a couple of the Mopar Sites: 68516518AA, 05003532AC
There are six locations as pictured below that can be used for engine stand support arm mounting locations.
This same pictures applies to the 2.5 diesel engine as well.
My engine stand only has four support arms for mounting to block/engine.
Personally I like to try and mount the support arms where center of mass/weight is as close as possible to the engine stand's rotation or pivot point. This makes rotating the heavy engine much easier.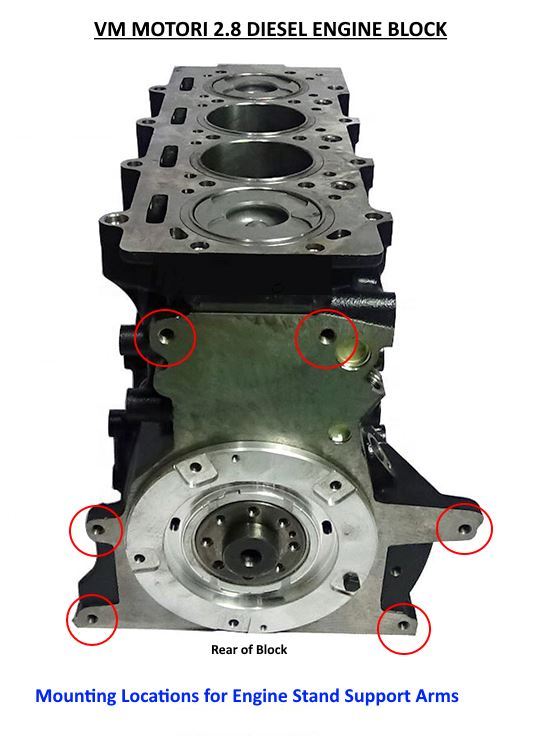 _________________
Supporting Vendor and Moderator of LOST
05 Jeep Liberty CRD Limited

Ironman Springs/Bilstein/Shocks
Yeti StgIV Hot Tune
Sasquatch BatteryTray
No FCV/EGR
Samcos/ProVent
SunCoast/Transgo
Carter Intank-pmp
2mic.Sec.Fuel Filter
Flowmaster/NO CAT
V6Airbox/noVH
GM11 bld.fan/NAPAHDClutch
IronrockArms/wwdieselMount