Quote:
I wonder what would happen if someone removed the ECM supply and replaced it with a 12v supply from the battery?
You would probably burn them out in short order. They cannot withstand 12v for any length of time.
From manual:
When the ignition is turned on, the ECM activates the glow plug relay for a time period that is determined by engine coolant temperature, atmospheric temperature and battery voltage.
The GP module/relay is wired 12v hot all the time, the voltage going to the glow plugs is pulsed by the ECM based on the 3 above input values it receives.
The module is pulsed by the ECM via a grounding circuit and feedback it receives from the GP module.
Adding a manual switch would be of no use since is already supplied 12v all the time.
See wiring schematic.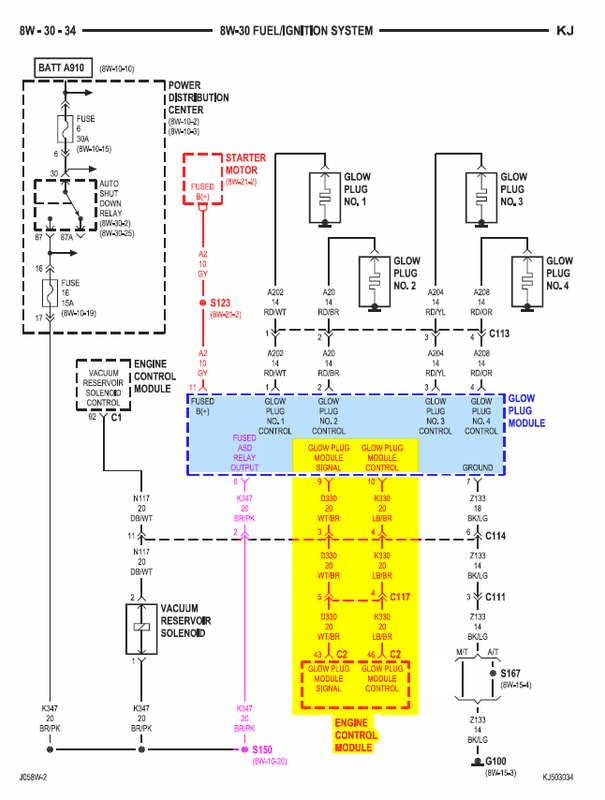 _________________
Supporting Vendor and Moderator of LOST
05 Jeep Liberty CRD Limited

Ironman Springs/Bilstein/Shocks
Yeti StgIV Hot Tune
Sasquatch BatteryTray
No FCV/EGR
Samcos/ProVent
SunCoast/Transgo
Carter Intank-pmp
2mic.Sec.Fuel Filter
Flowmaster/NO CAT
V6Airbox/noVH
GM11 bld.fan/NAPAHDClutch
IronrockArms/wwdieselMount