Steve777 wrote:
Thanks WW.
Yeah, have been searching youtube vids, and pretty much came to the same conclusion. Probably this intermediate part and possibly also the electric switch unit itself.
Only question is if I took the cowling off the steering column, and took the switch unit off (which looks like it is just on security torx screw) could I then start the jeep and drive it home. I think that would work (as long as it isn't the switch which is broken too). Seems like it would be worth a try to avoid a tow.
Any thought on whether its worth going with genuine jeep parts on this, or are the aftermarket ones OK?
I believe some have posted removing the cover and manually operating the switch to start the engine.
Of course if you can get the ign switch to turn to the "ON/run" position, you could pull the starter relay in the power distribution panel under the hood and jump the starter and make it start. See drawing.
I would just go aftermarket like the AutoZone part.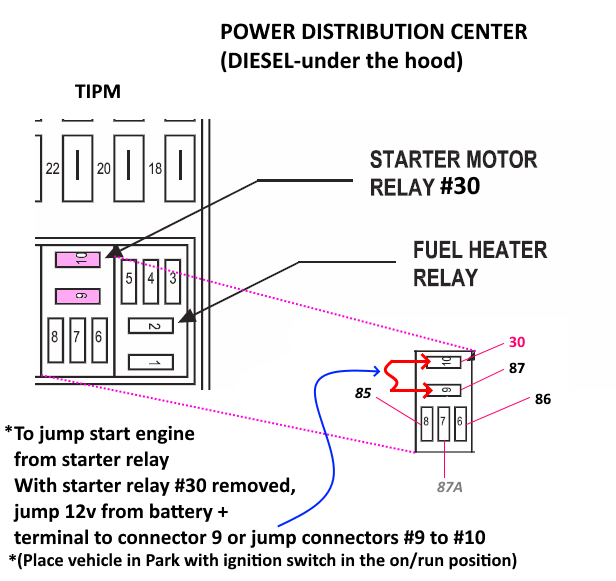 _________________
Supporting Vendor and Moderator of LOST
05 Jeep Liberty CRD Limited

Ironman Springs/Bilstein/Shocks
Yeti StgIV Hot Tune
Sasquatch BatteryTray
No FCV/EGR
Samcos/ProVent
SunCoast/Transgo
Carter Intank-pmp
2mic.Sec.Fuel Filter
Flowmaster/NO CAT
V6Airbox/noVH
GM11 bld.fan/NAPAHDClutch
IronrockArms/wwdieselMount