Just an update. Progress on getting things rolling has been slow, but we made a check jig for the formed parts and sent it to the tube bender today. He'll be doing them next wednesday. I've also plasma cut all the feet and flats used on the fixture. All material is on order and on its way.
Next Friday we'll be building the fixture and we plan to finish it and start coping tubes on the weekend. Probably will have a welded rack in 2 weeks.
Also for those of you that thought I should close in the front and rear with an upper tube, here are some screenshots of how I'm going to do it. Its pretty cool. It is totally removable, available after the fact, and is
adjustable
to fit whatever you're carrying.
Side view shows that the upper crossbars are even with the side rails, good for carrying oversized flat stuff.
Using HELLA FF75's would make the side and end crossrails the tallest things, keeping the lights below things like a sheet of plywood. Any type of light should be mountable though.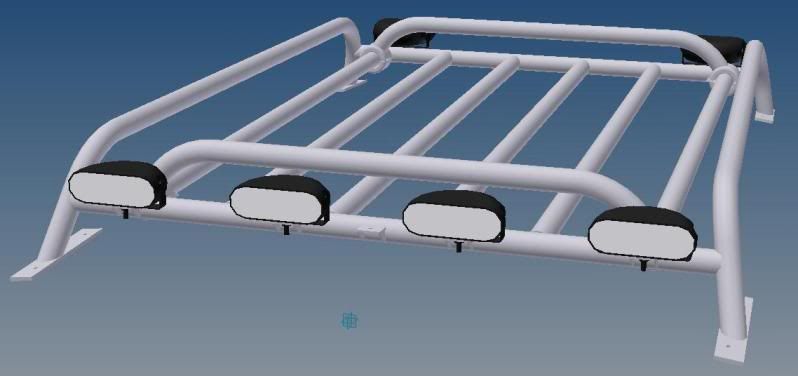 Machined, hinged knuckles are tightened with two 1/4-20 armor coated socket head bolts with stainless lockwashers. This allows them to be loosened, adjusted to hold whatever you're carrying, and retightened.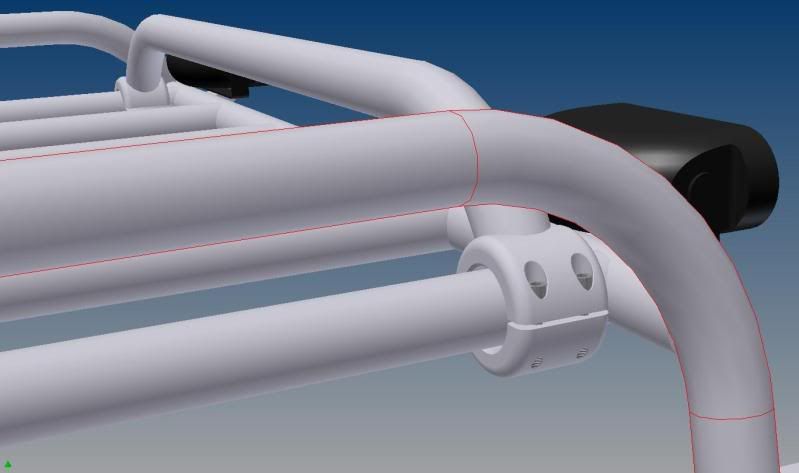 Finally, we're considering building the "Nightmare" rack as well. We're meeting tomorrow to discuss.
_________________
2005 KJ Renegade
Fabrications for sale:
Aluminum Roof Rack (See Page 9)
Aluminum Gas Tank Skid
--
Radiator Skid
--
Front Strut Shims
Coming Soon: Rear Bumpers with lots of options