You are not running the EHM are you? (elephant hose mod)
Have you checked the CCV puck on top of the engine to make sure it is functioning properly?
They can be serviced and cleaned, see this:>
viewtopic.php?p=927939#p927939
Is your CCV connected to the turbo intake boot and is the intake boot in good shape, not cracked or torn?
This engine requires the added vacuum from the turbo suction for the CCV system to function properly.
If it is not functioning properly, pressure inside the engine's crankcase and this will cause engine seals to leak oil, especially the rear main oil seal. This has been reported by several on LOST.
This is the thread about excessive blowby and dangers of crankcase pressure buildup, it's kinda long but has a lot of information:>
viewtopic.php?f=5&t=80491
There are crankshaft end play shims involved with the replacement of the rear main seal on this engine so you must be very careful when taking things apart and putting everything back together.
Here are a couple of threads and one video on rear seal replacement, hope they are helpful.
viewtopic.php?f=5&t=73745
viewtopic.php?f=5&t=85343
Video:>
https://1drv.ms/v/s!AqwvoBt9ZBp2gpkUsbi ... A?e=BFDAa8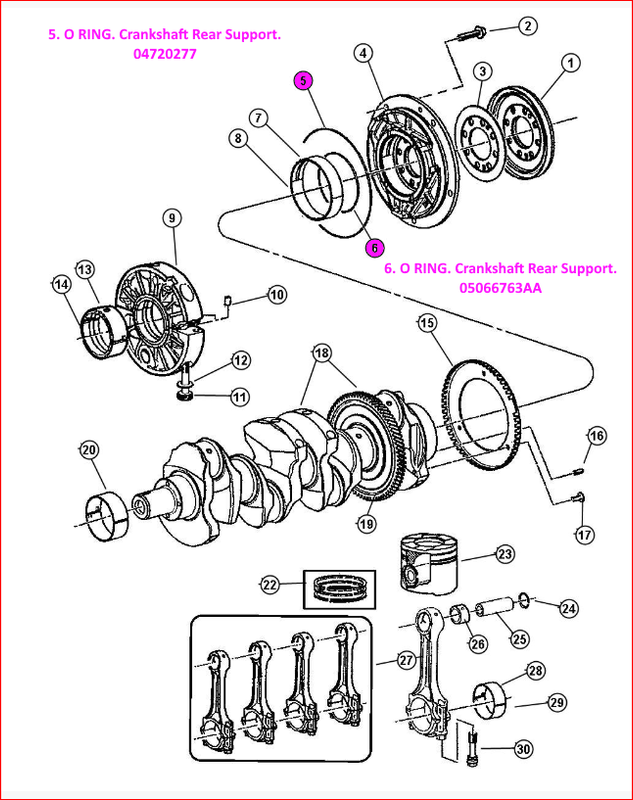 _________________
Supporting Vendor and Moderator of LOST
05 Jeep Liberty CRD Limited

Ironman Springs/Bilstein/Shocks
Yeti StgIV Hot Tune
Week's BatteryTray
No FCV/EGR
Samcos/ProVent
SunCoast/Transgo
Carter Intank-pmp
2mic.Sec.Fuel Filter
Flowmaster/NO CAT
V6Airbox/noVH
GM11 Bld.fan/HDClutch
IronrockArms/wwdieselMount
98 Dodge Cummins 24 Valve