edwardm wrote:
My 2.5 CRD 2003 has a blowing injector, does anyone have the torque and angle settings for this and any other useful info for someone who hasn't changed the seal before.
All the bolt torque settings are in the Factory Service Manual. You can view and / or download any of the FSM manuals from this online location:
LINK:>
Index of /manuals/Jeep/KJ
The injector seal is a copper "crush" washer that fits between the injector tip and the cylinder head. There is also a rubber "O" ring on the injector, but its purpose is to keep any trash out of the injector pocket.
See Picture 1
If the metal sealing surface on the head needs to be resurfaced, there are small face boring bits available online for cheap to perform this with. Just don't get to carried away cutting the metal when resurfacing.
Shown in Picture 1
You can find them online if you search for:> "diesel injector seat cutter"
Looks like the torque settings for the injector hold down bolts on the 2.5 engine are the same as the 2.8 engine.
See section 14, page 3 in the 2.5 FSM.
See Picture 2
There is no information in the FSM on injector angles??? Not sure what you are searching for on that subject?
PICTURE 1: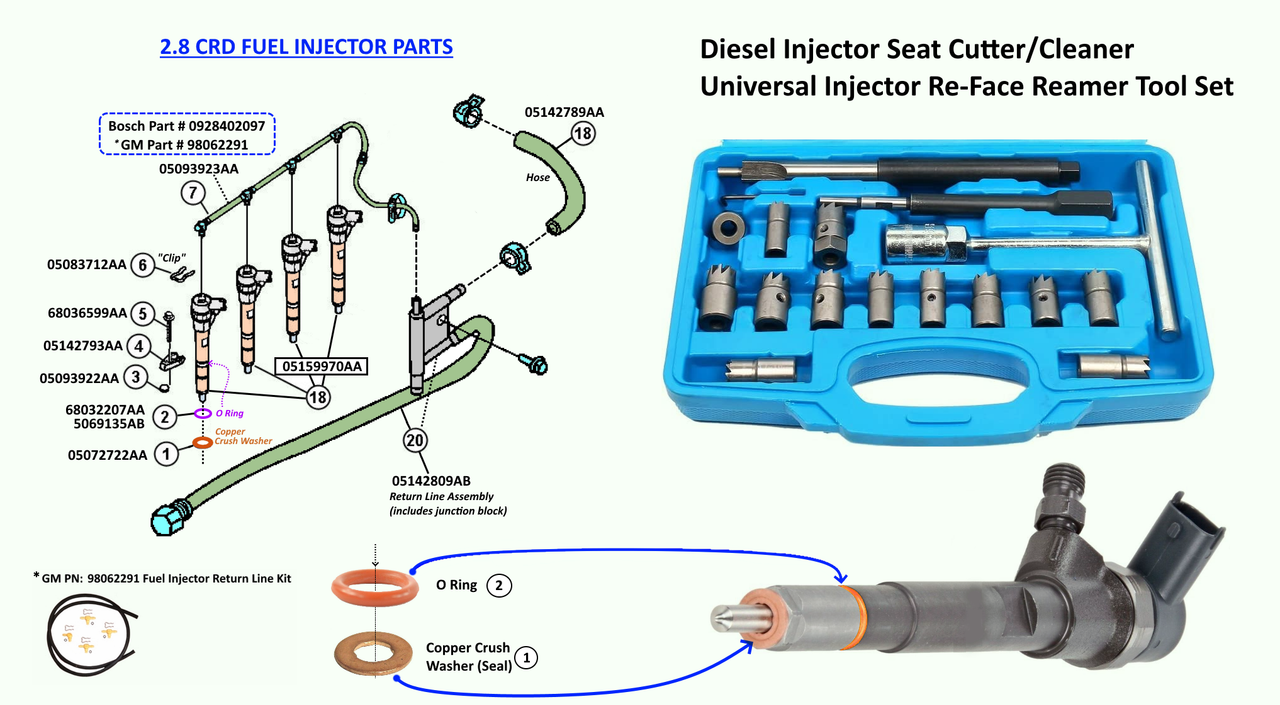 PICTURE 2: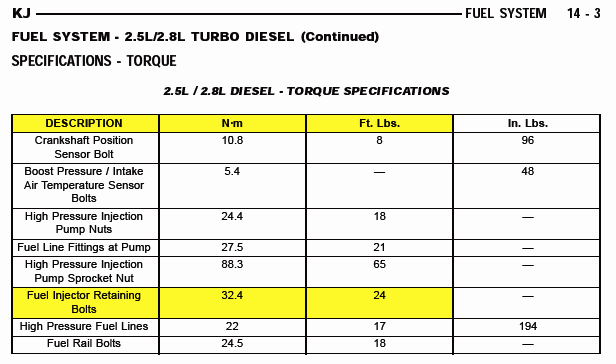 _________________
Supporting Vendor and Moderator of LOST
05 Jeep Liberty CRD Limited

Ironman Springs/Bilstein/Shocks
Yeti StgIV Hot Tune
Week's BatteryTray
No FCV/EGR
Samcos/ProVent
SunCoast/Transgo
Carter Intank-pmp
2mic.Sec.Fuel Filter
Flowmaster/NO CAT
V6Airbox/noVH
GM11 Bld.fan/HDClutch
IronrockArms/wwdieselMount
98 Dodge Cummins 24 Valve