jeepjohn wrote:
Hi all,
I was wondering if anyone could please tell me where the thermostat housing is located on my 2006 CRD? Is it underneath the airbox, or the battery?
Also, as a Canadian owner, is there an aftermarket source for the assembly other than the stealership?
Many thanks!
Stay away with any part with the "Crown" brand name on them as they have a history around here of early failure.
"Crown" is a cheaply made chinese copy knock off brand and synonymous with poor quality parts....
Right now, Factory Mopar Parts has one of the best prices for the OEM Mopar Thermostat:>MOPAR 5142601AA THERMOSTAT $106.72
http://www.factorymoparparts.com/oe-mopar/5142601aa
Picture below shows thermostat location on right front side of engine, see arrow: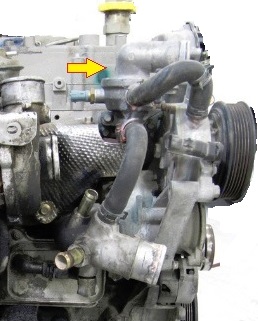 _________________
Proud Supporting Vendor of LOST
05 Jeep Liberty CRD Limited

Ironman Springs/Bilstein's
Yeti Stg4 MaxTune
Weeks ElbowKit/BatteryTray
No FCV/EGR
Samcos/ProVent
SunCoast/Transgo
Carter Intank-pmp
2mic.Sec.Fuel Filter
Flowmaster/NOcat
V6Airbox
GM11 bld fan/NAPA HDclutch
IronrockArm/Cust.Mount
DodgeCummins,5"exh. Viair, Huge K&N