Ok, I just bought a WJ that drove great on the test drive. On my way home I noticed the front right quarter moved around alot and also had some bump steer on dips in the road. The jeep is already signed for so there is no warranty and it is mine for keeps so I need to figure out where to go from here. It drives very well at slower speeds and only has issues on large dips or at higher speeds w/dips on highway like bridge/overpass transitions, etc.
It has 6.5" Iron Rock Off Road long arm lift, dual steering stabilizers, drop pitman arm, adjustable track bar.
Here are some pics the dealer took. I will take a better pic tomorrow evening in the daylight:
Here is more pictures of the jeep from their website:
http://modules.dealercarsearch.com/usercontrols/largephotos.aspx?id=660411
I believe this is the lift it has:
http://www.ironrockoffroad.com/Merchant2/merchant.mvc?Screen=PROD&Store_Code=IROR&Product_Code=IR-W_6LK&Category_Code=WLK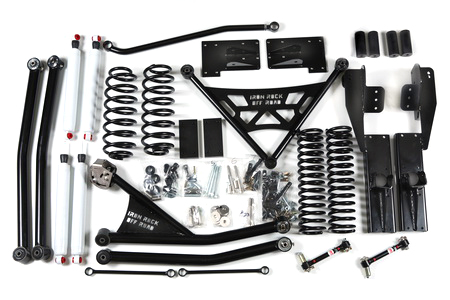 The lift has a "Y" drivers side front control arm and a single passenger front control arm. The track bar seems to be at a pretty steep angle, the pitman arm is a drop down and so the steering arm (not sure what that is called) has less of an angle than the track bar.
I have been told that for proper suspension geometry I either need a drop bracket for the track bar or to go back to the factory non drop pitman arm.
What are your suggestions for this? Any recommendations for a drop bracket brand? I have heard that they fail or flex alot and result in steering issues or just plain break off (scary).
I didn't see any 6.5" track bar drop brackets out there, but there are a few 4" ones that would probably help...if they do not break.
Or would going back to a factroy no drop pitman arm help?
Please note, this lift may be a bit old and I do not know the history of this vehicle. This problem may not exist with new shocks due to less suspension travel over big dips, etc? Maybe the steering stabilizers are worn out?
Symptoms include:
1) The steering wheel turning itself over bumps, but not uncontrollably and If I hold it firmly it will not turn.
2) On dips/bumps in the highway (60mph or so) the right side of the vehicle dips down more than the left and seems quite unstable.
It is my understanding that when the track bar moves (due to the larger angle) it pushes the axle left and right horizontally. This moving at a different rate than the steering arm (attached to pitman arm) when not matched to the axle movement even with steering wheel straight causes the wheels to move left/right since the axle is moving and the steering is not. Ideally it would be best to have both bars nearly parallel to the axle so this movement would minimal, secondarily i believe since that is not possible ona lifted jeep, the ideal situation is to have the steering bar and track bar parallel.
So I think ideally a drop track bar bracket would bring them really close to parallel to each other and closer to parallel to the ground (less axle and steering movement over bumps/dips). This is only the best option if the drop down track bar bracket is strong adn doesn;t bend or break.
The second best option would be to allign the two bars by removing the drop pitman arm and putting a stock one on and though the axle would still move horizontally the steering would be matched with it and not cause steering wheel movement. I hear this is not as good of a driving option, but stronger?
Again, I want to say the shocks may be worn out and might be allowing excessive up/down movement which moves the track bar more adn causes the instability. Any recommendation for very rigid or stiff shocks that will not allow for much movement but still have decent ride?
If all else fails, I will buy a 4" lift and sell the 6.5" because I have installed a 4" for a friend on a WJ and it performed wonderfully on and off road.
Please respond, especially if you have experience with the 6.5" lift similar to mine, as experience in this issue would be very helpful on deciding where to go from here.
Thanks,
- Mark