Well, I'm already having problems with my front Iron Rock Off Road springs. They have both settled, but it's the amount they have settled that bothers me. My RF is definitely worse. We all know and expect springs to settle slightly, no matter the manufacturer or brand. However ..... my RF spring has dropped 1-1/4" !!!!!!
Tom and I looked at them the other day and discovered that my RF is actually bowing in the middle! the rear part of the middle two coils is almost touching the bumpstop in the middle of the spring and the front of it is only 3/8" from the sway bar links. Here is a couple pics of what we saw while sitting on the wheels at ride height.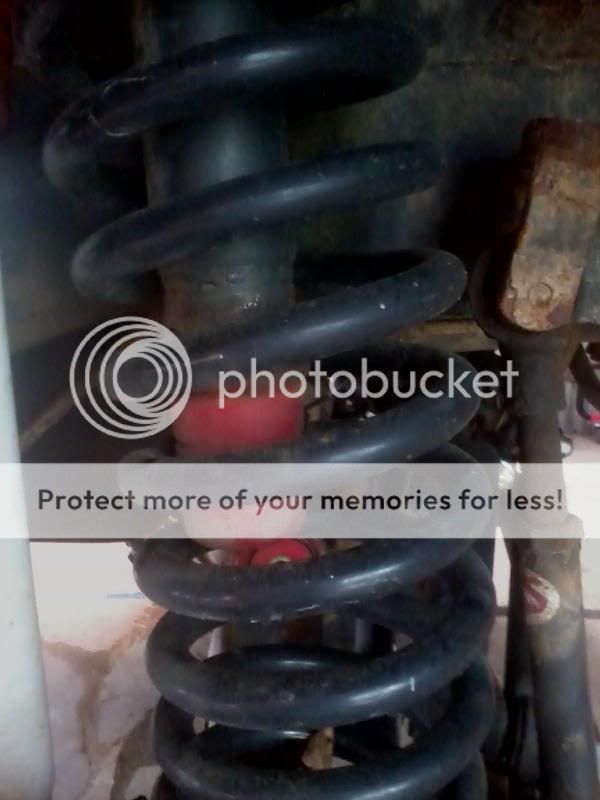 So I whipped off an email on Sunday night to IRO explaining everything and Monday afternoon I received a reply from Zach at IRO wanting to know if we had checked to see if they were seated correctly or it had moved around! I still have the spring retainer clips on the bottom so that hasn't moved and the top is pretty much held in place with the spacer and bumpstop. I emailed him back explaining we checked everything twice! It only has 3500 miles on the lift total and actually only about 4 hours in the dirt!
I finally got another email from IRO today and it looks like they are going to take care of it ........ BUT!!!!!!
I have to take my springs off and ship them back and wait for replacements,
or BUY ANOTHER SET OF SPRINGS!! and wait for them, install those and return the old ones!
Then if they think it's due to abuse or improper installation they won't reimburse me?
Here is the last email:
Larry,
Its sounds like you have all of the bases covered, we can go about replacing the springs in 2 ways. Either way we want to get the springs back to check them out and see if we can figure out what might have happened with them. 1) you can ship the springs back to us so we can inspect them, once we find them to be sagging, bowed, etc we would ship you a new set. 2) you can purchase a new set, we will ship you the new set and once we get the set in question back, get them inspected we would refund you for the newly purchased set. The benefit to the second option would be no down time.
Let me know how you would like to proceed.
Thank You,
Zack Lieberman
Iron Rock Off Road
http://www.ironrockoffroad.com
I guess I DO have the old 4" springs I took off still so I could maybe use those. I think they are a higher load rating so maybe they would be better anyway? I just have a feeling that IRO is already setting themselves up to reject my refund or replacement!