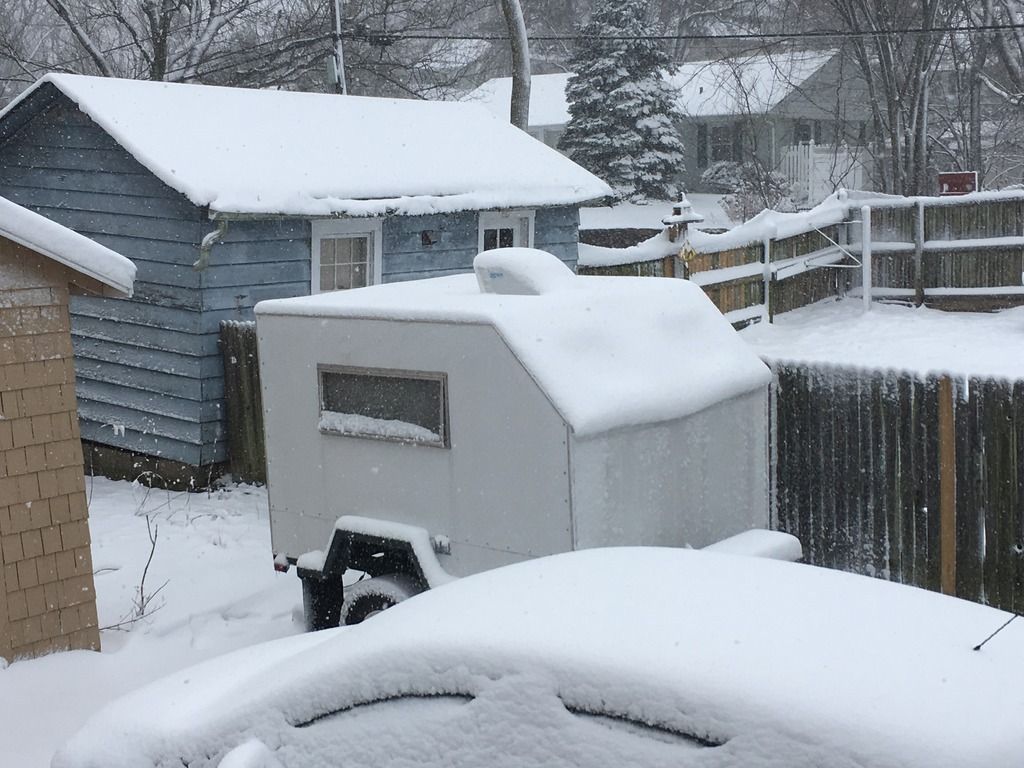 I camped in the trailer last night, again to test it to make sure everything works before my 4 day trip at the end of the month. Last night was a good night for a field test because some weather blew in around midnight. First we had rain, which turned to sleet as the temperature dropped, and then later became snow. By the morning there were 3-4 inches of snow on top of the trailer!
In terms of outcomes:
1. I was nice and toasty warm all night. The new heater plus the curtains were a great combination.
2. The wall and ceiling insulation work well. The snow accumulated on top instead of melting off and forming icicles. It's about 65-70 degrees inside the trailer as I took this photo.
3. With the windows open about 1" on both sides, I didn't need to have the roof vent open all night long for fresh air. Opening it even a little sucks the heat out of the trailer quickly (and refreshes the air as new cold air is drawn in from the windows). I did that once in the night, but not sure I really had to.
4. Condensation on the ceiling and walls was not an issue, probably because of the insulation and having the windows open a bit for ventilation. The only place with minor condensation was on the front windows, right above where I was breathing humid air on them all night.
5. I need a bathroom solution for the trailer for nights like this! Here's what I ordered (the basic model):
http://www.piddlepail.com
Laugh if you must! But leaving the warm trailer in the middle of the night in a snowstorm is not my first choice! Lol.
_________________
2008 Liberty Sport 4x4 Automatic
Jeepin By Al 4" Lift Kit
Goodyear Wrangler Duratracs 245/75/R16
Full MOPAR skid plates
Rock Lizard Skink Super Sliders
AtTheHelm Front Recovery System
Trailer build thread: viewtopic.php?f=72&t=77997