I bought these mirrors
http://www.etrailer.com/Mirrors/CIPA/11650.html
for my KJ for towing a 24' TT. Here is my review from etrailer.com.
I installed these mirrors as well as Cipa 5" spot mirrors for towing a travel trailer with my Jeep Liberty CRD. Setup was pretty straight forward. Because I was also attaching the spot mirrors, I bought a longer bolt to hold the mirror head to the arm. I was not comfortable with the amount of threads after going through additional brackets. Going down the road, vibration was minimal and I felt 100% confident in the setup. I had no problems passing other vehicles and merging in traffic. 2 things keep this from being a 5 star product. 1st, tightening the strap on the drivers side is a bit hard because the T-handle is not reversible. The OEM mirror is in the way. Luckily, on my Jeep, the mirror also folds forward to make it a little easier to get to. I would suggest that Cipa use a removable T-handle with a 1/4" square on either end of the assemble so that you can tighten from either side, or use a 1/4" ratchet if you misplace the T-handle. The other thing that keeps this from 5 stars is the mirror head. I feel that it is cheaply made. I notice when adjusting, the bottom of the mirror head would flex where the bolt threads into the head. I found that to adjust the mirror head vertically, I would have to cup the back of the mirror, holding both the top and bottom, as not to flex the head. All in all, this is a great product, and after the initial setup and adjustment, these mirrors come on and off in minutes.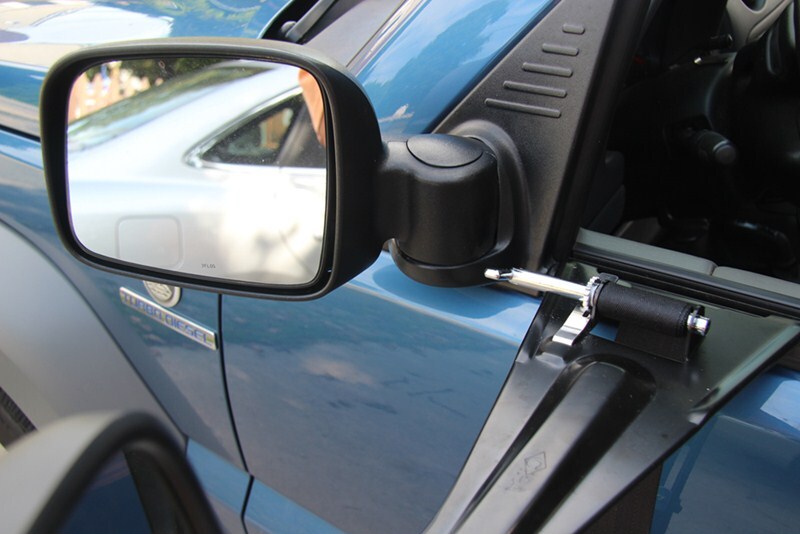 If my mirror heads ever break, I am going to look for ones off a 80's to 90's Ford F series. I believe they are slightly bigger and a lot better made.