Speaking of the electrical system, it is beginning to take shape. I got a shipment of parts the other day that included cables and battery boxes, so I had to give this a try!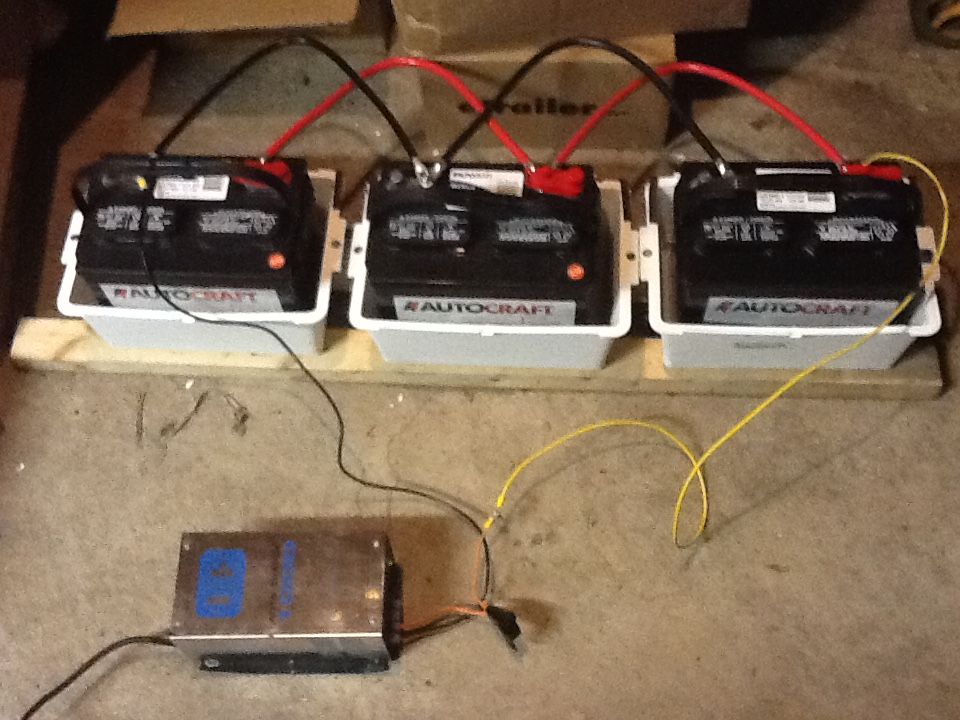 It consists of three Group 24, 12 volt Deep Cycle Marine batteries, hooked up in parallel.
I charged each one separately a couple of weeks ago so they are topped off and about as similar in charge as they can get before linking them together. Each battery stores approximately 80-90 amp hours, so the combined battery bank of 3 should net me at least 240 amp hours at 12 volts.
What is that in terms of useful capacity?
Fantastic Fan 3 amps on high
LED lighting 3 amps combined when all on
2 power outlets 15 amps each at max draw for 30 amps
Inverter - about 40 amps at 500 watts
(41.6 amps at 12 V = 4.16 amps at 120 V, for 500 watts of power)
All together = 76 amps, which could run for 3.16 hours.
But there is no way I would use everything all at once!
A more likely scenario:
Fan: 3 amps
Lights: 3 amps
IPad charger: 2 amps
Laptop computer 85 watt charger via inverter: 7 amps
Total = 15 amps
At 15 amps of draw, the 240 amp hour system could last 16 hours, or 5 days at 3.2 hours a day. That's basically what I designed the off-road trailer for: boondocking it where there isn't a place to plug in.
At 6 amps of draw, the system would be good for 40 hours on a charge. That would go much farther.
Ultimately it would be nice to have solar charging, but for now I have a Kussmaul AutoCharge 1000 that runs off of campground or home electricity to charge the system.
I picked up a 1000 watt (2000 surge) pure sine wave inverter over the weekend. Yay Craigslist!
It's a Xantrex ProWatt SW 1000 with a remote on/off switch that can be mounted inside the trailer.
Here's a pic from the web: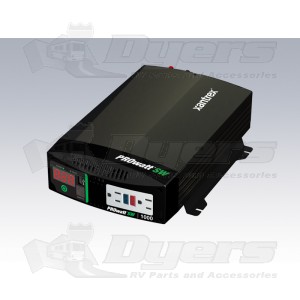 And technical info:
http://www.xantrex.com/power-products/power-inverters/prowatt-sw.aspx
Basically the three batteries will be in one compartment (with individually vented battery boxes) and the charger, inverter, and other electronics will be in another compartment.
_________________
2008 Liberty Sport 4x4 Automatic
Jeepin By Al 4" Lift Kit
BFG KO2's 245/75R16
Full MOPAR skid plates
Rock Lizard Skink Super Sliders
AtTheHelm Front Recovery System & Roof Rack
M116A3 Trailer build thread: viewtopic.php?f=72&t=77997