After taking into account the great advice from folks on the Teardrops n Tiny Travel Trailers forum (
http://www.tnttt.com
), and my own wants & needs for a trailer, here is the near-final mockup of the trailer. I need a camping trailer that can easily convert to haul cargo, but that is also off-road capable. The gross trailer weight should be under control because I am using a sandwich of 1/4 plywood and 1x2's/1x3's, rather than 2x4 wall studs. The walls and ceiling will be insulated, and I plan to use a gym mat over the metal floor.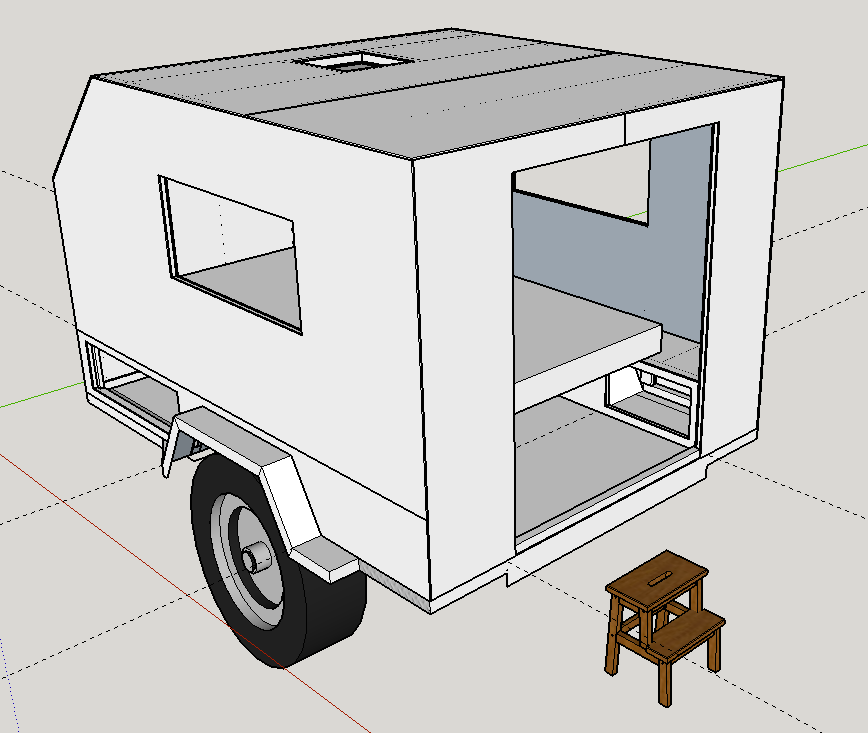 The trailer cabin is 5 feet tall, so headroom will no longer be an issue. The footprint is 8 feet long and 6 feet wide, taking advantage of the full dimensions of the trailer chassis. This gives me room for a queen mattress as well as a portable air conditioner or heater. Interior space is maximized by moving the storage / battery compartment from the front of the trailer to the sides. There will be two utility cabinets up front with outside access (for battery, charger, tools, etc.) and two storage cubbies in the rear with interior access.
The interior will have two benches that run the length of the trailer. These benches can be converted into a bed by laying boards across, from side to side, or possibly by folding a bed frame down from the side walls (I will work that one out later). There will be 1 foot of room under the bed for storage, and I could build a corner cabinet on the right side to match the air conditioner in the corner on the left.
I am looking at having 4 windows, 15 inches tall x 30 long, and a Fantastic Vent fan. The rear door will be hinged on the right side. The front window will have a protective awning that covers it while driving.
Am I forgetting anything? Thanks! It is almost time to let the sawdust fly.
Lauren
_________________
2008 Liberty Sport 4x4 Automatic
Jeepin By Al 4" Lift Kit
BFG KO2's 245/75R16
Full MOPAR skid plates
Rock Lizard Skink Super Sliders
AtTheHelm Front Recovery System & Roof Rack
M116A3 Trailer build thread: viewtopic.php?f=72&t=77997