Still checking in, and wheelin most every weekend.
I made it over to the East Coast this past weekend, check out this picture I took of someone backing into the surf. He was actually further out with the waves hitting the tailgate, but pulled forward before I could get to the camera...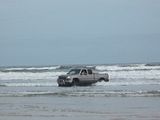 Also, here is a video I made from two weekends ago. I have been working on our red CJ-5 and we took it out for a testrun. I also took my Land Cruiser for pull-out duty...
http://www.youtube.com/watch?v=UPC8HDl3Lxk