95Z28A4 wrote:
IIRC, the WJ rear ball joint is centered with the axle tubes. More than likely, when mounted to the WJ axle, the heim joint is centered with the axle tubes. Did you consider designing you bracket so the heim joint is at the centerline of the axle? I think moving the bracket rearward would provide more adjustment.
The centerline of the heim joint is in the exact same side to side location as the OEM KJ boomerang ball joint along with the same angles for the triangulated arms. Only difference is the IronRock arm heim joint is adjustable in and out or front to rear which allows some pinion angle adjustment.
When designing the bracket, I did not locate the centerline of the entire differential axle assembly as I was more concerned as to making sure the IronRock arm's angles and mounting locations were in the same locations as the OEM boomerang. See picture below of IronRock Arm bolted to the top of an OEM boomerang:
As to moving the bracket rearward, I have located as far to the rear as possible due to the boss that sticks up on the 05 where the rear speed sensor is located. If the 06 does not have the speed sensor boss on the differential housing, it may be possible for a little more rearward location on them, but I suspect it would be very small...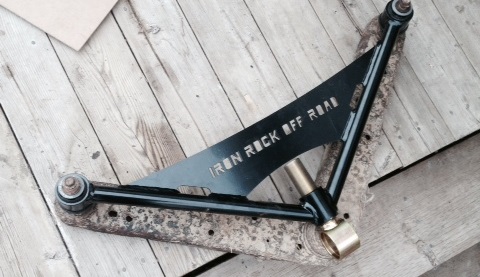 _________________
Supporting Vendor and Moderator of LOST
05 Jeep Liberty CRD Limited

Ironman Springs/Bilstein/shocks
Yeti StgIV Hot Tune
Sasquatch BatteryTray
No FCV/EGR
Samcos/ProVent
SunCoast/Transgo
Carter Intank-pmp
2mic.Sec.Fuel Filter
Flowmaster/NO CAT
V6Airbox
GM11 bld. fan/NAPA HDclutch
IronrockArms/wwdieselMount