Limited Quantity!
(Only about a gazillion available...)
As you may know, Nomad has provided to us, free of charge, several dozen high-quality vinyl LOST Rockies stickers, available to all for $3.00 apiece, shipped.
Well, he used this as a training exercise for his staff, and the first run wasn't done quite right--they printed them black on a white paper background. Since Nomad had them sitting around, he went ahead and (on his own dime) shipped them to me, in case anyone would like some.
Here's what they look like: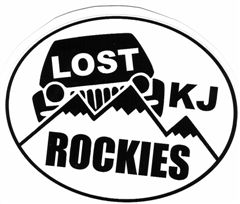 If you'd like to have some, I'm making them available at the steeply discounted price of $2.00 each! That's 33% off!!!
Or you can have them for a buck a piece, or whatever.
As always, the proceeds will become the property of the LOST Rockies club, and will be posted
here
.
I'll update the original stickied decals post to include information about these irregulars.