Last Sunday my son & I decided to take a drive up the Gaspe' coast to get a better look at the wind farm north of Carleton, QC. From our home in Dalhousie, NB we can clearly see the wind turbines on the top of the hills. I think there's about seventy turbines.
We couldn't find the access road to the wind farm so we decided to head up Mont Saint-Joseph above Carleton. Now on a summer's day the road to the top is taxing on the transmission on the way up and the brakes on the way down. On the day we went up we discovered they don't plow the road in the winter
The only thing at the top is a church and a radio tower.
We managed to get within a kilometer of the top when the transmission light came on and the snow became just too soft.
Just as well that we did stop where we did. Near the top of the road the snow was over the top of the guardrails. If we ever did slide off the road we would have kept going
We didn't actually make it to the summit of the mountain because of deep snow and the lack of snowshoes but looking north we did get a great view of the wind turbines;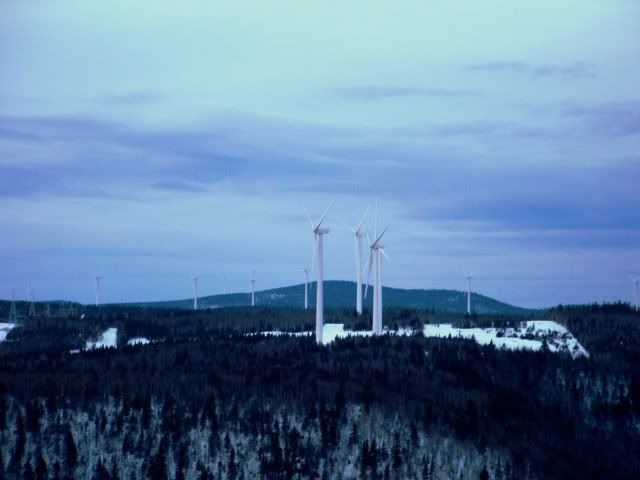 Next time we'll head out earlier in the day to give us a chance to do more exploring of the area.