We, Troy (tjkj2002), Marty (Rock Lizard), and I went in two KJ's, Troy's and mine, to Chinaman's Gulch. Located very near Buena Vista, CO. This trail is rated pretty tough (7/10) on Trail Damage website (
http://www.traildamage.com/trails/index.php?id=1
). Visit the link and see videos and pics of what this trail offers. Since it was just the three of us, pics were limited. We missed out on the obstacle that caused a Rubicon with 35's to slide and slam down hard many times trying to make it up the obstacle. You literally drop 2 ft down onto a large boulder (on your belly) if your tires slip and he did about four times. A tree to your right makes it another body damage piece if you slide back or to the right.
This was the first opportunity to test the Jeepin By Al 4" Lift and boy did it get tested!
The trail started out with some nice tippy spots.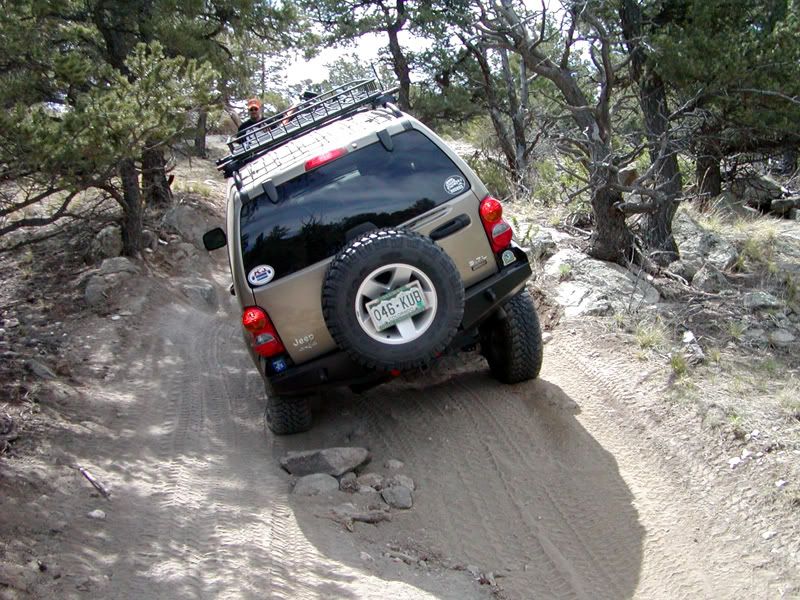 and then immediately led to this rock garden.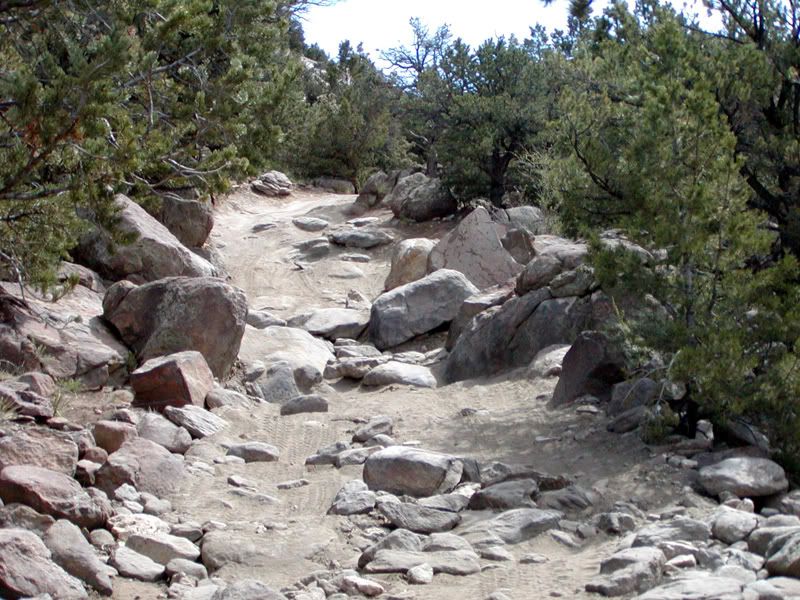 so I climbed and swerved my way through it.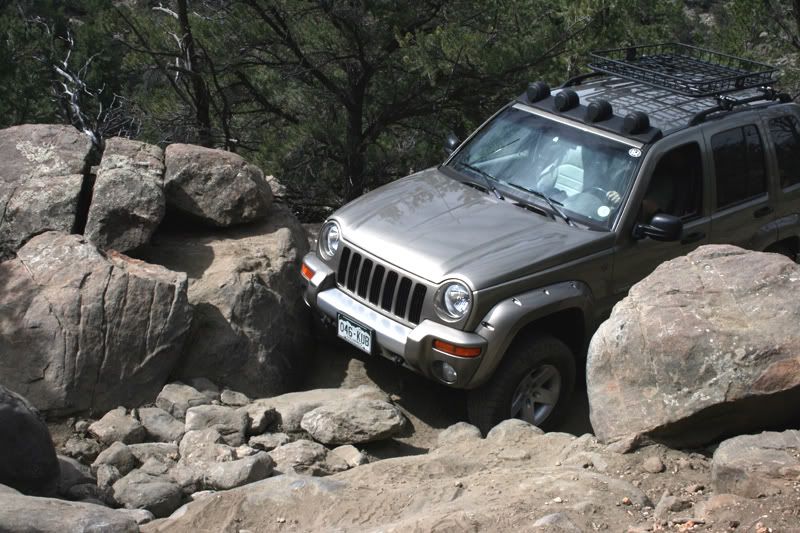 soon we were hanging ten and stuffing our wells. How low can you go? Is that a Double stuffed Oreo or an MTR?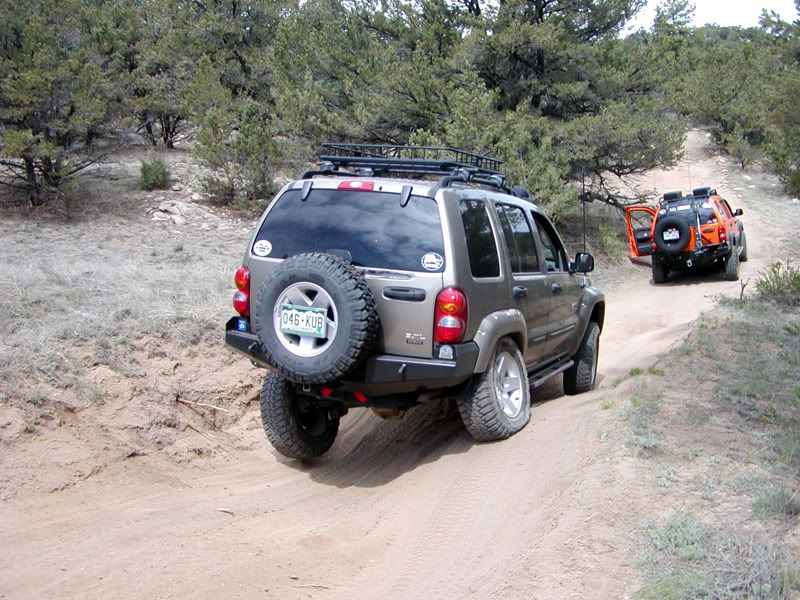 Then it was poser time (isn't it always poser time?)
If you look closely, you can see some motorcyclists. Their buddy was driving an XJ with 35's and he bent his tie rod while driving hard into a rock w/o a spotter.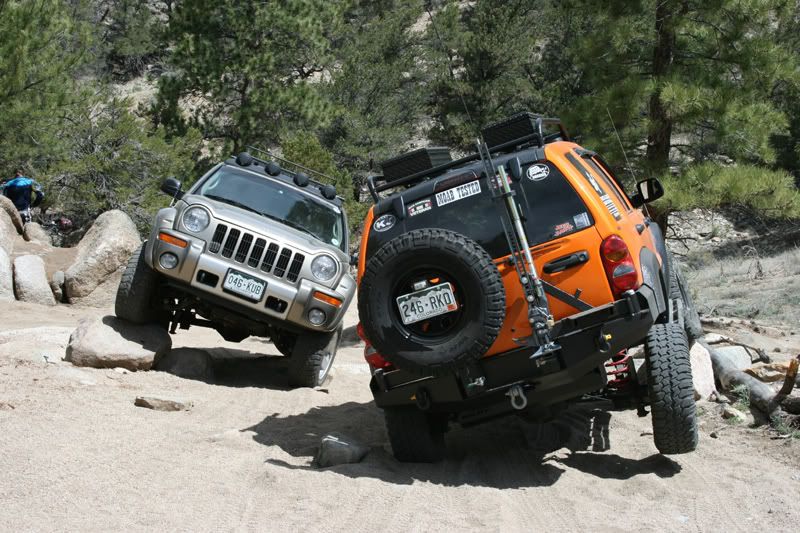 Thos tires looked ready to puncture, but they wrapped well.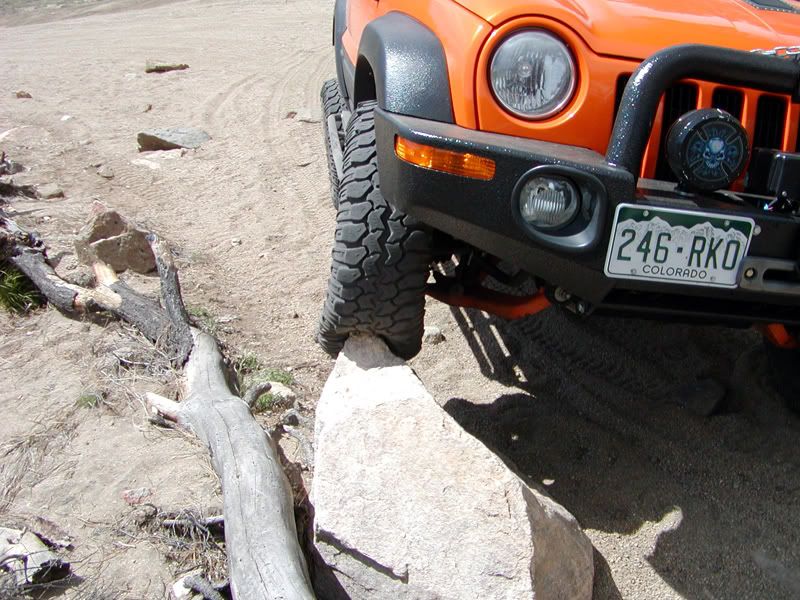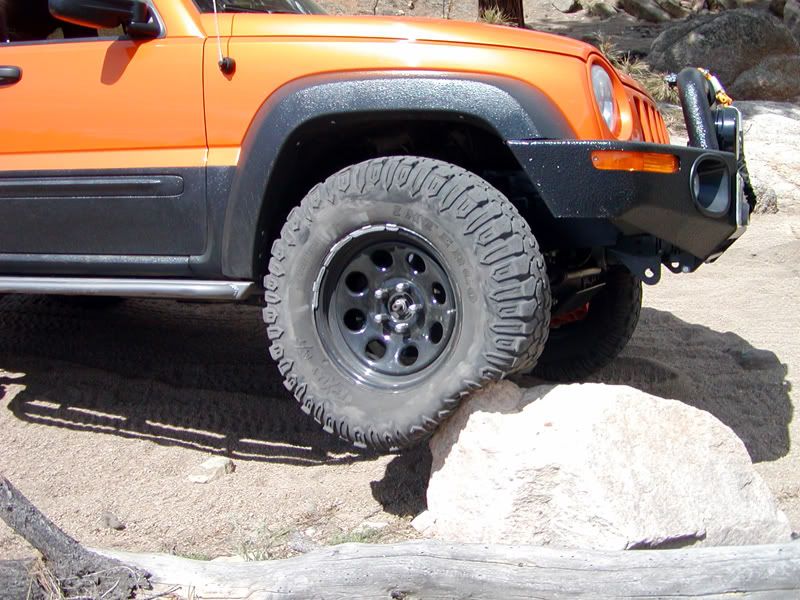 Stopping to soak in the beauty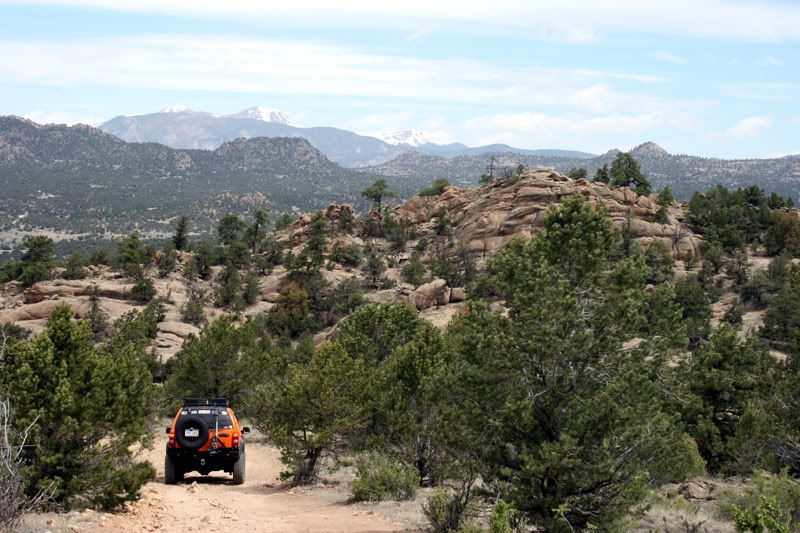 A couple of fun obstacles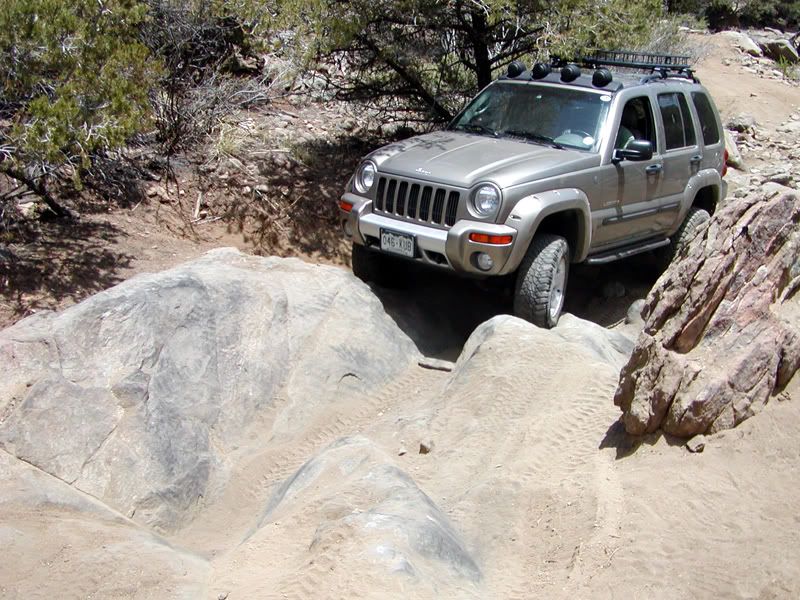 Troy's front tire is actually 3 ft off the ground in this pic!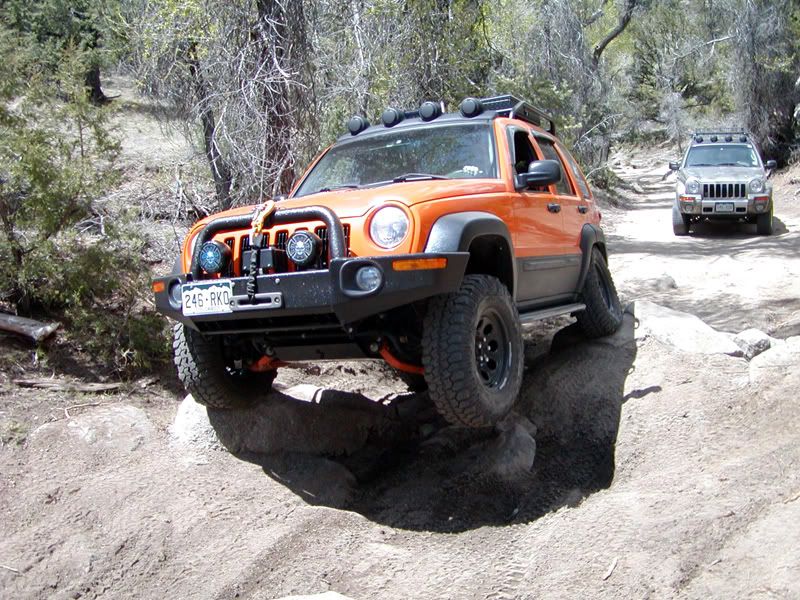 Me just trying to pop some springs out
A waterfall to remember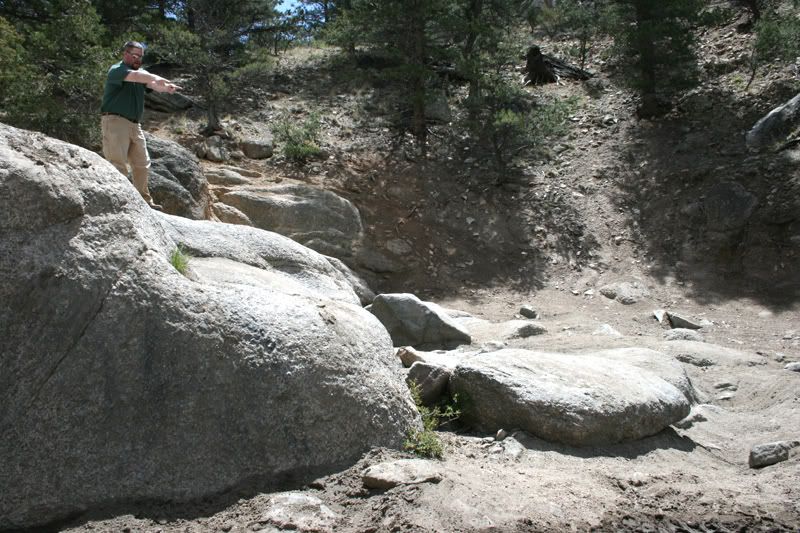 Troy ups it in one try (lockers are nice)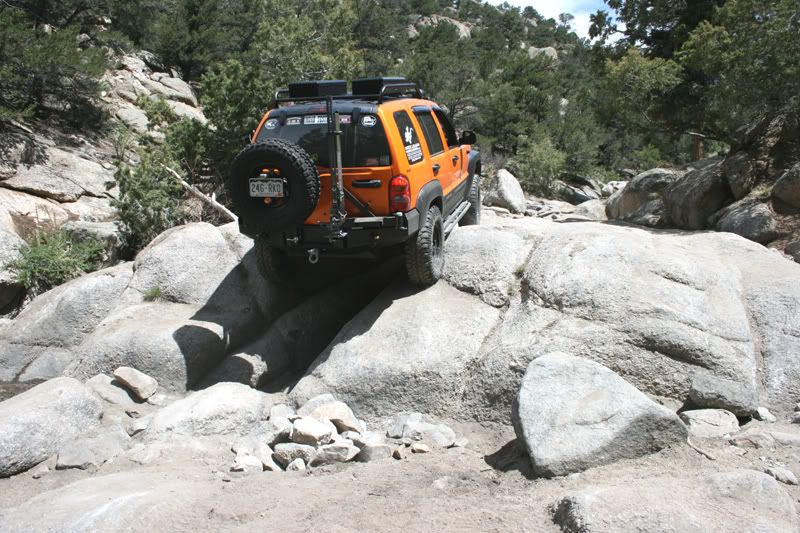 I am ready to spin my tires in the sand as I try. HEY! Where'd that audience come from? They were amazed the KJ was on this trail and trying this obstacle. Of course, I just have the Trac Lock and took three tries. They clapped when I got up.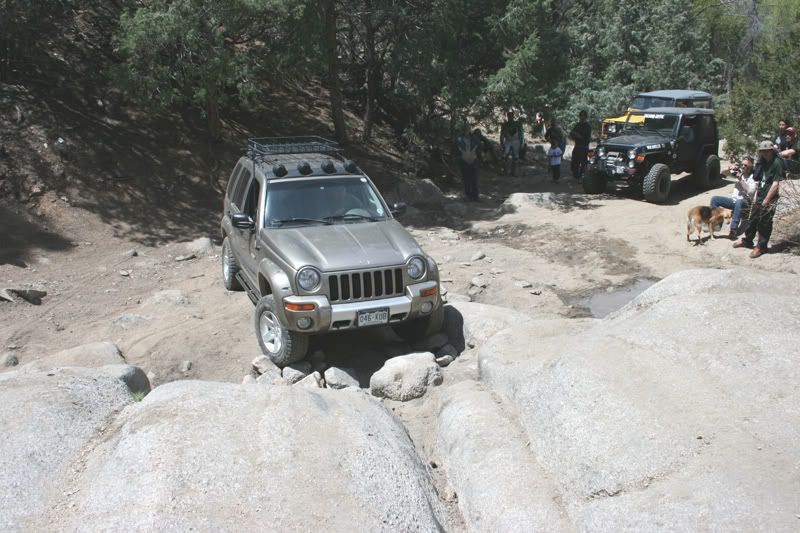 Coming down a sharp drop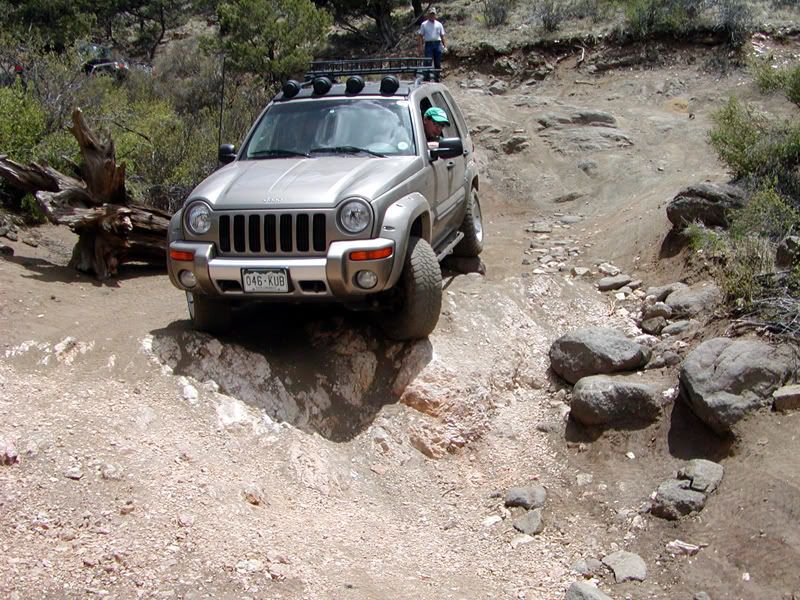 Great views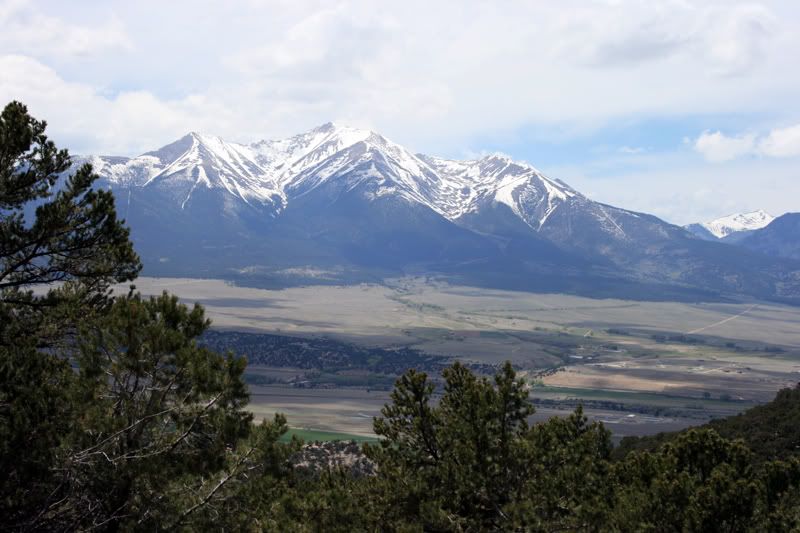 Remember this earlier on when we were going up it? Now it is time to go down it.
Danger looms!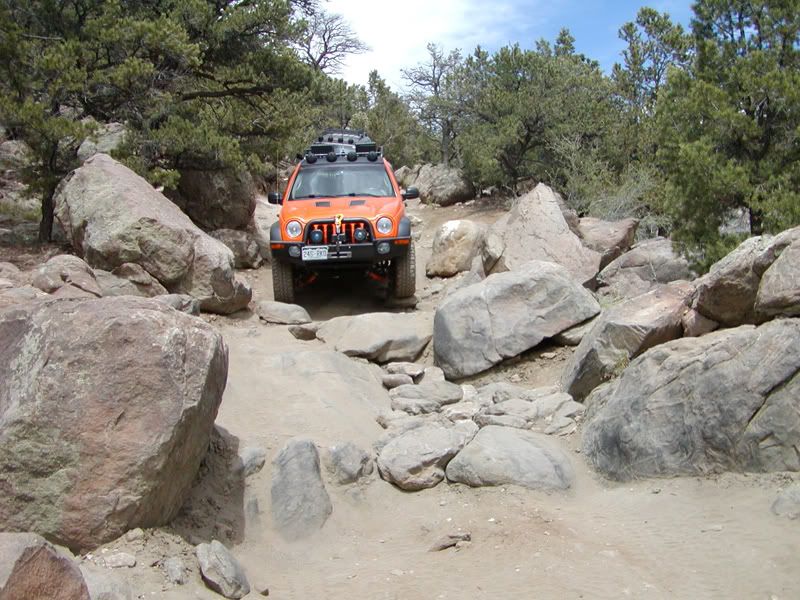 As Troy was going down this obstacle, he grenaded his Driver's side CV. CV snot sprayed everywhere. He lost his brakes (due to the CV snot on the calipers) and no more 4x4. He got his rear bumper jammed on a rock and I had to tug him back to get free enough to turn his wheels. All the while we had about 11 buggies and other 35+" wheeled vehicles behind us not really offering any help. W/O 4x4 capability, Troy kept getting stuck on rocks (rear diff hung up). Finally, he blows a bead on his front right tire. The people behind us were not very sympathetic but did do the ether-lighter trick to rebead his tire. They acted a bit rude. I said to one guy, "Sorry to hold you guys up." He says, "You're right." What the hell!? Like they never broke down on a trail before with no room to pass?
When we limped back to the local gas station, we had to wait three hours for a jack, jack stands, and brake cleaner fluid. As Troy finally was able to get to the CV, there was not one ball left.
We finished the trail around 4:30pm, but did not leave for home until 8:40pm. He removed the CV, front drive shaft, drained the front diff, swapped his front and rear passenger-side tires due to imbalance (lost a bunch of lead weights), and drove home after family members of Marty's drove 2+ hours out to us (after running out to the store to get the socket and brake cleaner) with the needed equipment (including the 35mm socket, I think that was the size, to remove the CV. Nothing open anywhere near us that would have the needed socket.
We were due for a trail breakage here in Colorado a shame it was so close to the end of the trail.
From what I can gather, we (LOST Rockies-Colorado) have had a shock mount bolt break (simple fix) and Troy's CV as the only breakages on Colorado trails over the last three years.
The Jeepin By Al 4" lift did it's job and held up.
Only one issue. Must have bigger bump stops for the rear. The springs did fall out three times. The obstacle I mentioned at the top where we got no pictures, both of my springs popped out at the same time right after I made it up that obstacle (no strapping or falling those two feet). We are still trying to figure out how both came out at the SAME time.
Awesome trail!!!
I did this with my front tires being nearly bald (less than 1/8" of tread and in some spots the tread is flat. Maxxis Big Horns are coming soon.
_________________
===
New KJ Gear
-
Desert Armor Flak
2004 Renegade Light Khaki - 4" JBA Lift - Rock Lizard Products: Komodo Dragon Rear Bumper, Prototype Winch-mount Front Bumper, Super Skink Sliders - All J's Super Tranny Skid II - 31" Firestone Destination AT's on Moab wheels - Cobra 75W CB w/ stock Antenna mod
[b]Retired, US Military