WWDiesel wrote:
You talking about the ones that hold the FCV to the intake manifold?
There are 4 of them and best to get to the 2 rear ones from below with a long extension. see picture.
Takes a 10mm socket best I remember.
or
Are you pulling the intake/valve cover?
Your picture really does not show....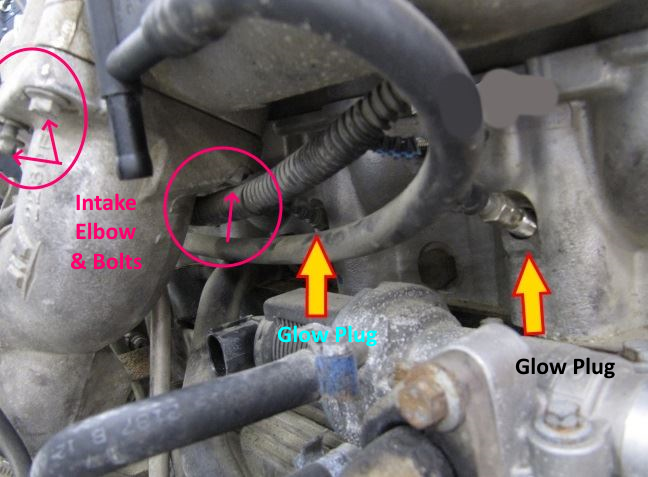 so i got 2 of 4 glow plugs. whoever last replaced the glow plugs overtighted everything, even the plugs... #1 was hard to fully thread without a bit of force... concerning but it is fully threaded now and didn't look like it pulled any threads as i took it back out to see why it was so hard to get in there... I was attempting #3 and couldn't get it to budge. got the intake inlet pulled out enough to get to it. the bracket on the bottom of the inlet that attaches to a hose is so tight and in such an awkward position i can't get it to move at all... i'll try again tomorrow. i'm worried about how the threads look at this point. it was a dealership that did it also. he must have used an impact on almost everything (the alternator bracket was pretty much finger tight though) what a Richard. trying not to cuss but i really don't think the guy that did it knew what he was doing or was having a bad day. feel like calling that dealership and telling them that tech can fix his... screw ups... meh, i don't want that donkey touching it again... i'm pretty annoyed right now.
just in case anyone asks: i'm not doing this for fun. i have a bad #2 glow plug and the ones i purchased are a different brand than bosch... so i would feel better to replace all of them at once to not run into troubles later on. the plugs in there now are almost 10 years old so i just want to do them all now and save a headache later, especially with winter coming up soon.
the elbow bolts are 5/16". metric sizes didn't work... 8mm was too big and 7 mm didn't quite fit either...